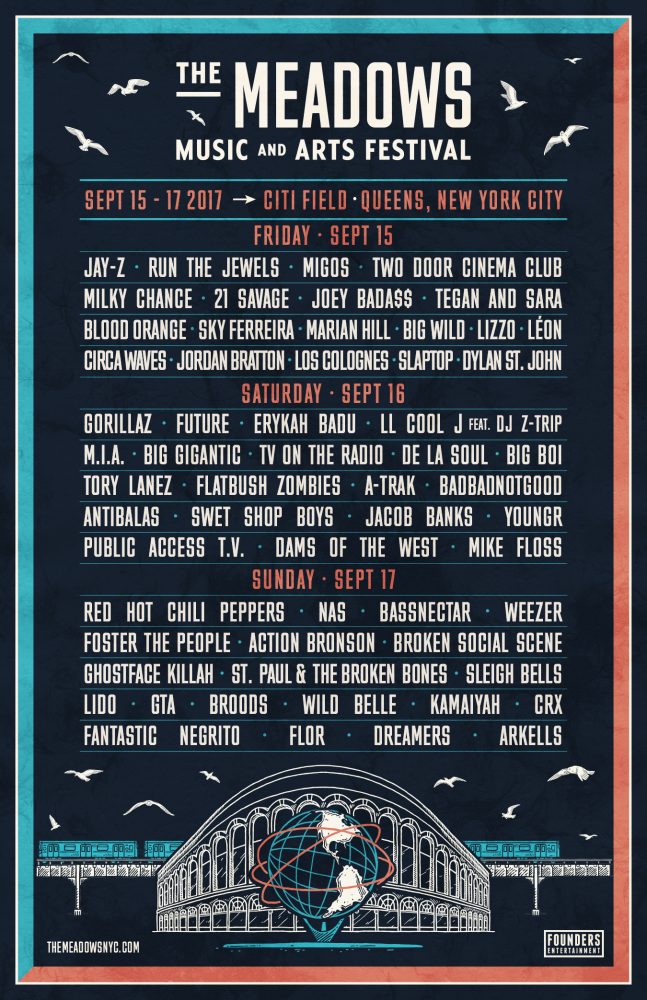 The days of summer are slowly winding down. With about a month left, we are still able to send the summer of 2017 off in style in the form of The Meadows Music and Arts Festival. They've returned with an even bigger and better installment this year which sees them once again at the Citi Field complex, this time expanding to three days, taking place from September 15-17. For information on tickets head here.
Headling this year's edition is Jay Z, Red Hot Chili Peppers, Gorillaz, Future, Nas, Weezer, Run The Jewels and LL Cool J. There's really something for everyone and that's before we get to the deep undercard. M.I.A., Erykah Badu, Blood Orange, De La Soul, Two Door Cinema Club, Sleigh Bells, Big Boi, Sky Ferreira, Ghostface Killah, Action Bronson, St. Paul and The Broken Bones, Tegan and Sara, Foster The People, Milky Chance, Joey Bada$$, Jacob Banks, Public Access T.V., CRX, and Dams Of The West.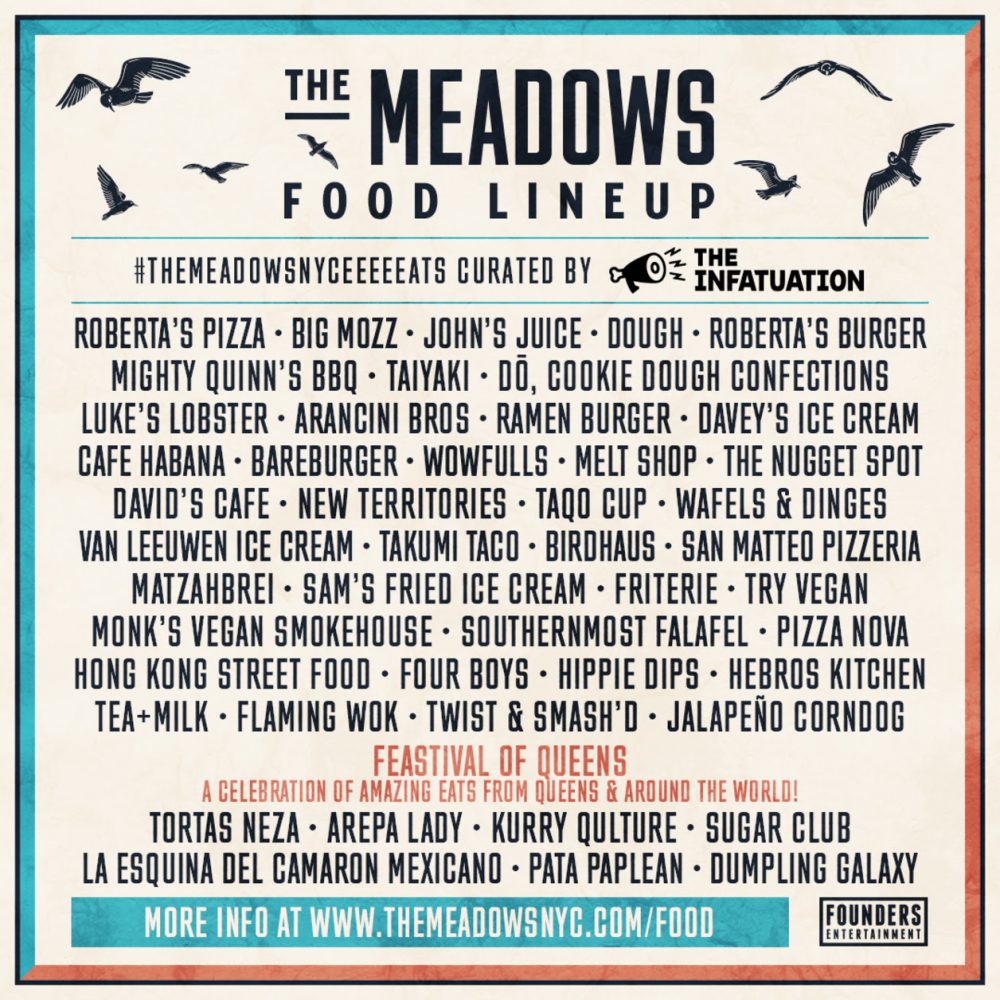 Not only will there be a great selection of musical acts to see, but also some amazing food options brought to you by the Infatuation Village and the FEASTival of Queens. The Infatuation Village will feature the likes of Luke's Lobster, Ramen Burger, DŌ, Roberta's Pizza, Dough and many more. The FEASTival of Queens features a food lineup curated by Joe DiStefano, featuring the best food that the burough has to offer, with selections from Indian, Chinese, Mexican and Colombian food. You'll be running around the festival like mad to catch all the acts you can, so it's comforting knowing you have all these rather impressive food selections waiting to provide that needed fuel.
We are just 22 days away from the festival and that means figuring out who to see. The festival recently released the schedule and some immediate conflicts that pop up are Run The Jewels vs. Two Door Cinema Club, Erykah Badu vs. LL Cool J, Gorillaz vs. M.I.A., Broken Social Scene vs. Ghostface Killah, and Weezer vs. Nas. Although those are definitely tough, considering how many artists there are, that's not too bad conflict wise.
If you're heading to the festival, chances are your mind is already made up with artists who are can't miss. But don't forget to get there early and take a chance on someone you never heard of, there's a good chance that there's a future headliner hidden in there or an artist that is due for a big break out. Get there early for the likes of Public Access T.V., Dams Of The West, Jacob Banks, Los Colognes, Arkells, Youngr, Dylan St. John, and Slaptop. You will be able to get a lot closer to these artists upon arrival and get to take in what may be a star-making performance.
Tickets for the festival are currently still on sale. But the clock is ticking and if you want to guarantee your entry for The Meadows, grab them now before its too late.