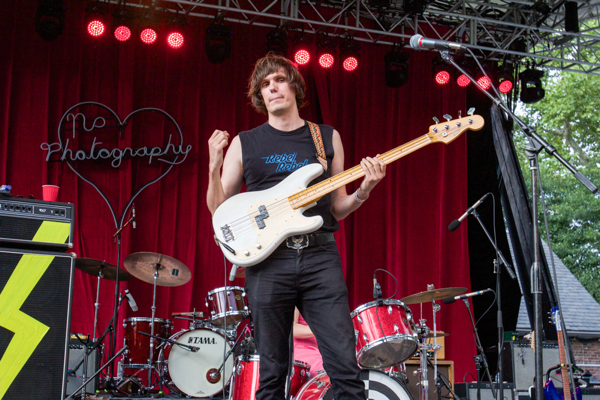 (Summer Moon at Summerstage in 2015)
You may best know Nikolai Fraiture as bassist of New York rockers The Strokes. As the band is taking some time off before the eventual release of their new album, Fraiture been busy with his new band Summer Moon, who released their debut album With You Tonight today via DTF Records.
A few weeks ago I had the chance to chat with Fraiture over the phone as New York was hit with a rather heavy snowstorm. A major contrast to the wonderful, summer-like weather that we're currently experiencing today, which fits the record quite nicely.
We talk about the new record, how the band came together, the difference between making music in L.A. and New York, and the time he and Julian Casablancas went to see Jane's Addiction play in 1997. You can find our whole conversation posted below and can buy the album here.

———————————————-
We All Want Someone: Hey Nikolai, thanks for taking the time to chat with me today. How are you doing?
Nikolai: Hey good, thanks, how are you?
W: Not too bad myself. Are you in New York, tucked away in this crazy snowstorm?
N: Yeah I am. Just hibernating, no reason to go out!
W: Agreed! Well let's kick this off. First of all, congrats on the release of your debut album. How does it feel to finally get the songs out there?
N: It feels great. It's been a weird, long process, but to finally have it ready feels good.
W: So you made music on your own before as Nickel Eye, how would you say the approach has been different this time around as Summer Moon?
N: It started in a similar way, but I would say it started with working on music at home and then eventually, I started the process of actually playing live and having a band together from New York. You know, it started fun, just playing shows together with friends, throwing parties. It was a lot more relaxed, and then through scheduling it actually became easier once I started playing with musicians in L.A., where it became more focused. That was a big difference, as my first foray (Nickel Eye) was much more of a personal album that I made for myself and eventually I was happy that I put it out, but it was much more personal.
W: There's a collective nature to Summer Moon, with lineup has featured some changes from your initial incarnation of it (Erika Spring, Tennessee Thomas, and Lewis Lazar). Can you talk about the new lineup and how you guys came together?
N: Yeah! The new lineup is Stephen Perkins of Jane's Addiction, Camila Grey from Uh Huh Her and Noah Harmon from The Airborne Toxic Event. So yeah that came together, they're all awesome people and great musicians that are a lot of fun to play with. You know, they've all done it before on a pretty high level, so they know how it goes. It's a very comfortable fit. When I go out to L.A., it's great because we get the work done. I think it was even more collaborative than where the songs were originally, because it was an album that I wrote and recorded with Brad Bell as well as in New York with Matt Boynton. But going out to L.A., there's a much more collaborative, real band feeling to the initial part of the songs.
W: Interesting, why do you think that is. What's the main difference between writing in New York and L.A.?
N: It's so much easier to make music in L.A. than it is to make music now in New York. I feel like New York may have changed a little bit, well, maybe a lot (laughs), with all the closing of the venues and new condos. You can still rent space where we started (with The Strokes) in New York at The Music Building on 38th Street and play music, even if the rent is a lot higher than it was. I actually rented some space there to sort of get away from home and work on music in a separate environment and that's where a little bit of the songs started. But yeah, with L.A., there's studios everywhere, everyone is in five others bands, but in a cool way. Everyone is helping each other out. I met some photographers there, musicians, artists, filmmakers. It's very creative.
W: So I'm sure you're aware of a now hard to find video of you and Julian, before your Strokes days, outside Hammerstein after a Jane's Addiction show in 1997. So how special and surreal is it that you're now playing in a band with Stephen Perkins?
N: Yeah, it's awesome. He's such an amazing drummer and a great guy. That concert was one of the top five concerts that I've ever been to. It was at Hammerstein on Halloween. We were four friends, Julian, my brother, another friend and myself. We went in and didn't see each other for the rest of the show because it was so crazy. They used to pack shows much crazier than they do now. The whole entire crowd was a mosh pit, the energy was great, Flea was playing bass covering for Eric Avery. Yeah, it was good!
W: The title track "With You Tonight" has stuck around for awhile now. From the early days of the demo released in 2015, to the new single and album. Does it have any special meaning for you?
N: That song was the most "produced track" in my room, on my equipment. It's kinda all in the box, so to speak. So for me, the reason I picked the album title to also be "With You Tonight," was because the album is like a gift that I'm offering to people who want to listen to it. It's sort of a companion to whatever anyone is feeling at any point.
W: There's a lot of classic rock sounds on the album, mixed with some electronic and dance elements. Can you talk about some of the influences on this record?
N: The electronic aspects came from when I stumbled upon the genre Italo disco. There's a song called "Spacer Woman" by this band Charlie, and you can kind of hear in that song that the sound is similar to The Nice and those kind of more modern electronic bands. Yeah, I was listening to that and other influences I had growing up in New York, like the more classic rock stuff and experimental Sonic Youth-esque, noise melody, and early hip-hop.
W: Did you write most of these songs on your own and then bring it to the band and record it with them, or was it more of a collaboration?
N: This one was mostly written by myself on my own and then we went into the studio with things that had to be done like live drums. Stuff like that, where I felt a lot of the songs needed that to breathe life into them, take them out of the computer and out of the box.
W: So with The Strokes you play bass, with Nickel Eye you played guitar and sang, and this time around you're playing bass and singing, which you don't see too often. How's it feel leading the charge on bass?
N: I try to keep it at an in-between space. Not trying to go over the edge with it, which I don't mind listening to, but it's not something I wanted to do, like say, Les Claypool. So something in-between and obviously Sting would be the first guy you think of. I think there are more people that are playing the bass and singing that people don't realize, like Kim Gordon and Kim Deal. But for me, it's more just a place that I'm comfortable in and it's kinda of an expansion of who I am, and my personality. And in terms of singing and playing, it's the challenge of combining the two, because the bass is a lot more of a pocket and finding a groove. And singing over something like that, sometimes it doesn't always stay on the rhythm and can be a little loose, so finding that balance has been fun and challenging.
W: Right now all of you guys in The Strokes have been out doing your own thing (Nick with CRX, Albert, Julien with The Voidz and his label/producing duties etc). How do you guys find the time to balance it all and be able to just come back to The Strokes when the time comes?
N: I think communication. We are at a point now where we can block time out and know that we will be there. As long as the communication is there and the avenues are open and we are all willing to do it, there is no reason it shouldn't happen.
W: While we're on the topic, is there any status update on a new Strokes record that you're allowed to give us?
N: We're definitely working and stuff is happening. We're all on good terms and working towards an album and hopefully it will be soon.
W: I know this is a tough one, but what's your favorite song off the record?
N: Ooh man, at the moment..(laughs), the most fun to play is "Chemical Solution," because we play it a little differently than it is on the album. The vocoder stuff is played with guitar, -this cool guitar melody- and there's a fun outro that we do that's not on the album. So yeah I'd say this is my favorite to play.
W: Can we expect a full tour from Summer Moon, or a new NYC date?
N: Yeah, New York City we're currently looking to April, so hopefully we'll be in town sometime around there.
W: Awesome, I think we're out of time but thanks so much for the chance to talk to you today!
N: Thanks Will, stay warm man!
---
Join the conversation