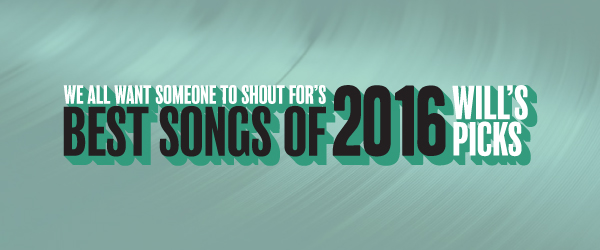 (Artwork courtesy of Anthony Bauer)
2016 was a wild one. It's not a year that many of us will look back all that fondly on, but then again, it wasn't all bad. There were a lot of great albums and songs released throughout the year, from artists of all sizes. From the surprise drop, to the long-awaited albums from greats like Radiohead.
Tomorrow I'll share my list of my favorite albums of the year, but first, lets dig in to the songs that I had on constant repeat throughout the year.

You know the deal. My favorite 100 songs of the year, listed below, and a giant spotify playlist made for your convenience with all of the songs (although songs from Thee Oh Sees, Bombay, Night Flowers, Ty Segall, and Dr. Dog were not found on Spotify). Enjoy that stream right here, or find it below along with our list from #100-1.
100. Warehouse – Reservoir
99. Sam Evian – Dark Love
98. Hinds – And I Will Send Your Flowers Back
97. Oscar – Only Friend
96. Hazel English – I'm Fine
95. Conor Oberst – Gossamer Thin
94. Morgan Delt – The System of 1000 Lies
93. Dr. Dog – Jim Song
92. Ty Segall – Candy Sam
91. Quilt – Roller
90. Woods – Sun City Creeps
89. Postiljonen – How Can Our Love Be Blind
88. Local Natives – Past Lives
87. Wolf Parade – Automatic
86. Kendrick Lamar – untitled 06 | 06.30.2014.
85. White Lung – Below
84. Yumi Zouma – Short Truth
83. Porches – Glow
82. Twin Peaks – Butterfly
81. Preoccupations – Memory
80. Night Flowers – Chaser
79. Glass Animals – Season 2 Episode 3
78. DIIV – Under the Sun
77. Amber Arcades – Fading Lines
76. Fear Of Men – Sane
75. Day Wave – Gone
74. Vince Staples – Pimp Hand
73. Mutual Benefit – Not For Nothing
72. The Growlers – Dope on a Rope
71. Mothers – It Hurts Until It Doesn't
70. BadBadNotGood – Time Moves Slow (feat. Sam Herring)
69. The National – Peggy-O
68. Jim James – Same Old Lie
67. Anderson .Paak – Come Down
66. Lucy Dacus – Strange Torpedo
65. Klaus Johann Grobe – Rosen des Abschieds
64. Kishi Bashi – Hey Big Star
63. The Lemon Twigs – How Lucky Am I?
62. Bombay – Slow Motion
61. Operators – Cold Light
60. Charles Bradley – Changes
59. Explosions In The Sky – Disintegration Anxiety
58. Hoops – Gemini
57. Cullen Omori – Hey Girl
56. Sheer Mag – Can't Stop Fighting
55. Kadhja Bonet – Honeycomb
54. The Strokes – Oblivius
53. Japanese Breakfast – Everybody Wants to Love You
52. Frankie Cosmos – Outside with the Cuties
51. The xx – On Hold
50. Sunflower Bean – Easier Said
49. Tycho – Horizon
48. Young Thug Future Swag
47. Animal Collective – Golden Gal
46. Blood Orange – Best to You
45. Weyes Blood – Used to Be
44. Father John Misty – Real Love Baby
43. Little Green Cars – The Factory
42. Temples – Certainty
41. Mercury Girls – Ariana
40. The Avalanches – Because I'm Me (feat. Camp Lo)
39. King Gizzard & The Lizard Wizard – Robot Stop
38. Chance The Rapper – No Problem (feat. Lil Wayne & 2 Chainz)
37. Big Thief – Masterpiece
36. Danny Brown – Really Doe (feat. Kendrick Lamar, Ab-Soul & Earl Sweatshirt)
35. Caveman – Never Going Back
34. Sing Street – Drive It Like You Stole It
33. Parquet Courts – Berlin Got Blurry
32. Iggy Pop – Sunday
31. Andy Shauf – Quite Like You
30. Wilco – If I Ever Was A Child
29. Kanye West – Ultralight Beam
28. The Radio Dept. – Swedish Guns
27. Leonard Cohen – Leaving the Table
26. Kevin Morby – I Have Been to the Mountain
25. Forth Wanderers – Slop
24. Thee Oh Sees – Gelatinous Cube
23. Emily Reo – Spell
22. Radiohead – Decks Dark
21. Frank Ocean – Ivy
20. Run The Jewels – Thursday In The Danger Room (feat. Kamasi Washington)
19. The Last Shadow Puppets – Aviation
18. Angel Olsen – Shut Up Kiss Me
17. Childish Gambino – Redbone
16. Bon Iver – 33 "GOD"
15. Whitney – No Matter Where We Go
14. Cass McCombs – Cry
13. Radiohead – Daydreaming
12. LUH – $ORO
11. Car Seat Headrest – Drunk Drivers/Killer Whales
10. The Last Shadow Puppets – Miracle Aligner
9. Hamilton Leithauser + Rostam – In a Black Out
8. Whitney – No Woman
7. Mitski – Your Best American Girl
6. Angel Olsen – Sister
5. A Tribe Called Quest – We The People….
4. The Last Shadow Puppets – The Dream Synopsis
3. David Bowie – Lazarus
2. Radiohead – True Love Waits
1. Hamilton Leithauser + Rostam – A 1000 Times