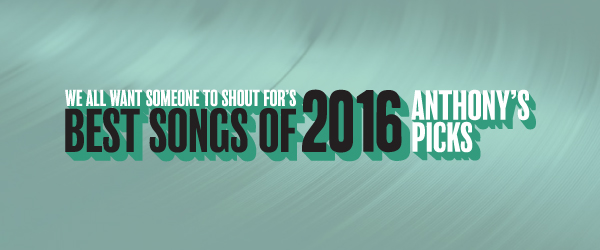 It's safe to say that 2016 was a pretty weird year, but one thing we can all agree on is just how crazy of a year it was for music.  From the highly anticipated to the complete out of nowhere surprise drops, the year truly didn't disappoint at all.  We finally got that Radiohead album we were all clamoring for and even got some releases we weren't expecting to see in 2016 (we're looking at you, Schmilco, Abandoned Mansion, Epoch and Run The Jewls 3).
There were so many great releases that it was difficult keeping up with all of them, which was literally half the battle.  You'll notice that some artists I chose multiple songs which is not a mistake, its 100% on purpose.  There were certain songs from certain artists off of certain albums that just were just so good that I couldn't not include them.
Below you will find the list in descending order from 100 to 1 and if you're also really feelin' the list and got 8 hours to spare, be sure to check out the Spotify playlist which is right below the list.  Also as a heads up, not all the songs below are on Spotify and will be noted with an "**" symbol.  Enjoy!
Favorite Songs of 2016:
100. La Sera – High Notes [Music For Listening To Music To]
99. Post Animal – Caught In The Trap [The Garden Series]
98. My Morning Jacket – Mageetah [It Still Moves: Deluxe Reissue]
97. Deep Sea Diver – Secrets [Secrets]
96. Bayonne – Lates  [Primitives]
95. Springtime Carnivore – Midnight Room [Midnight Room]
94. Super Furry Animals – Bing Bong [Zoom! The Best of 1995 -2016]
93. Field Music – The Noisy Days Are Over [Commontime]
92. Dr. Dog – Engineer Says [The Psychedelic Swamp]
91. The Last Shadow Puppets – The Dream Synopsis [Everything You've Come to Expect]
90. The Avalanches – Saturday Night Inside Out [Wildflower]
89. Frankie Cosmos – Fool [Next Thing]
88. Run The Jewels – Down [Run The Jewels 3]
87. Toro y Moi – Stil Sound [Live from Trona]
86. A Tribe Called Quest – Black Spasmodic [We Got It From Here… Thank You 4 Your Service]
85. Real Estate – Here Comes Sunshine [Day of the Dead compilation album]
84. Porches – Pool [Pool]
83. Katy Goodman + Greta Morgan – Ever Fallen In Love [Take It, Its Yours]
82. James Blake (feat. Bon Iver) – I Need a Forrest Fire [The Colour in Anything]
81. Blood Orange – Better Than Me [Freetown Sound]
80. Bayonne – Omar [Primitives]
79. Dr. Dog – Bring My Baby Back [The Psychedelic Swamp]
78. Fourth Wanderers – Slop [Slop EP]
77. Kevin Morby – Tiny Fires [Tiny Fires Single]
76. The Last Shadow Puppets – Is This What You Wanted [The Dream Synopsis EP]
75. Steve Gunn – Night Wanderer [Eyes on The Line]
74. Tycho – Source  [Epoch]
73. Radiohead – Decks Dark  [A Moon Shaped Pool]
72. St. Paul & The Broken Bones – All I Ever Wonder [Sea of Noise]
71. Quilt – Roller [Plaza]
70. White Denim – Ha Ha Ha Ha (Yeah) [Stiff]
69. Carl Broemel – Sleepy Lagoon [4th of July]
68. Cass McCombs – Cry [Mangy Love]
67. Wolf Parade – Mr. Startup [EP 4]
66. Kevin Morby – Singing Saw [Singing Saw]
65. Operators – Blue Wave [Blue Wave]
64. Dr. Dog – Golden Hind [The Psychedelic Swamp]
63. Hamilton Leithauser – In a Blackout [I Had a Dream That You Were Mine]
62. Chance the Rapper – All Night [Coloring Book]
61. Andy Shauf – Eyes Of Them All [The Party]
60. Dawes – As If By Design [We're All Gonna Die]
59. A Tribe Called Quest – Whateva Will Be  [We Got It From Here… Thank You 4 Your Service]
58. Toro y Moi – JBS [Live from Trona]
57. Cass McCombs – Run Sister Run [Mangy Love]
56. Ray LaMontagne – Part One: Hey, No Pressure [Ouroboros]
55. Jim James – In The Moment [Eternally Even]
54. Tycho – Glider  [Epoch]
53. Whitney –  No Woman [Light Upon The Lake]
52. Radiohead – The Numbers [A Moon Shaped Pool]
51. Dr. Dog –  Jim Song [Abandoned Mansion]**
50. The Avalanches – If I Was a Folkstar [Wildflower]
49. Blood Orange – Augustine  [Freetown Sound]
48. Warpaint – New Song [Heads Up]
47. The Last Shadow Puppets – Aviation [Everything You've Come to Expect]
46. Childish Gambino – Baby Boy [Awaken My Love]
45. William Tyler – Gone Clear [Modern Country]
44. Carl Broemel – 4th of July [4th of July]
43. Angel Olsen – Those Were The Days [My Woman]
42. Big Thief – Masterpiece [Masterpiece]
41. Kishi Bashi – Who'd You Kill [Sonderlust]
40. Local Natives – Past Lives [Sunlit Youth]
39. Sam Cohen – The Garden [Cool It]
38. Wilco – Someone to Lose [Schmilco]
37. Childish Gambino – Me and Your Mama [Awaken My Love]
36. Charles Bradley – Changes [Changes]
35. Steve Gunn – Ancient Jules [Eyes on The Line]
34. Edward Sharp and the Magnetic Zeros – Hot Coals [PersonA]
33. Courtney Barnett – New Speedway Boogie [Day of the Dead compilation album]
32. Sunflower Bean – Human Ceremony [Human Ceremony]
31. Jim James – Here in Spirit [Eternally Even]
30. Daniel Rossen – Terrapin Station (Suite) [Day of the Dead compilation album]
29. LNZNDRF – Beneath The Black Sea [LNZNDRF]
28. Nice As F**k – Door [Nice As F**k]
27. The XX – On Hold [single from the upcoming album I See You]
26. Car Seat Headrest – Drunk Drivers/Killer Whales [Teens of Denial]
25. St. Paul & The Broken Bones – Flow like That [Sea of Noise]
24. Explosions In The Sky – Disintegration Anxiety [The Wilderness]
23. Mitski – Your Best American Girl [Puberty 2]
22. EZTV – Goodbye Morning [High In Place]
21. Andy Shauf – The Magician [The Party]
20. The Arcs – Lake Superior [Lake Superior single]
19. Father John Misty – Real Love Baby [Real Love Baby single]
18. Whitney – Golden Days [Light Upon The Lake]
17. A Tribe Called Quest – Space Program  [We Got It From Here… Thank You 4 Your Service]
16. The Last Shadow Puppets – Miracle Aligner [Everything You've Come to Expect]
15. Parquet Courts – Berlin Got Blurry [Human Performance]
14. Chance the Rapper – No Problem [Coloring Book]
13. Bonobo – Break Apart [single from the 2017 album Migration]
12. Run The Jewels – Thursday in the Danger Room (feat. Kamashi Washington) [Run The Jewels 3]
11. David Bowie – Lazarus [Blackstar]
10. Hamilton Leithauser – 1000 Times  [I Had a Dream That You Were Mine]
9. Kevin Morby – I Have Been to The Mountain  [Singing Saw]
8. Dr. Dog – Abandoned Mansion [Abandoned Mansion]**
7. Radiohead – Daydreaming [A Moon Shaped Pool]
6. Iggy Pop – Gardenia [Post Pop Depression]
5. Tycho – Epoch [Epoch]
4. Cass McCombs – Opposite Houses [Mangy Love]
3. Angel Olsen – Sister  [My Woman]
2. Wilco – If I Ever Was A Child  [Schmilco]
1. Childish Gambino – Redbone [Awaken My Love]