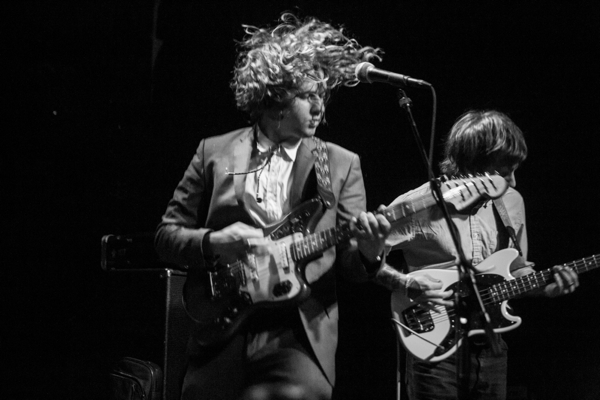 After catching an early performance from Mutual Benefit at Mercury Lounge, I headed over to Brooklyn to catch Kevin Morby's sold out show at Rough Trade NYC. This was his second sold out show in a row, with a sold out show coming the day before at Merucry Lounge (find Bauer's coverage here).

With heavy focus on his new album Singing Saw (released via Dead Oceans), this packed show was a big difference from the last time he played Rough Trade NYC, where it was just him and his drummer, Justin Sullivan back when they were a two-piece. Now they're accompanied by guitarist Meg Duffy and bassist Cyrus Gengras, who it's hard to imagine Morby without.
The set delivered many of the finest moments off Singing Saw along with older favorites like "Harlem River" and "The Ballad Of Arlo Jones," along with a cover of Townes Van Zandt's "No Place To Fall."
You gotta imagine the next time around that Morby will be headlining Bowery or MHOW, but getting to see him at a room like Rough Trade NYC is such a perfect setting.
Find the setlist posted below, along with some more photos from his performance.
Kevin Morby Setlist:
1. Cut Me Down
2. Dorothy
3. Harlem River
4. All of My Life
5. Destroyer
6. I Have Been To The Mountain
7. Tiny Fires
8. Miles, Miles, Miles
9. Singing Saw
10. Black Flowers
11. No Place to Fall (Townes Van Zandt Cover)
Encore:
12. Parade
13. The Ballad of Arlo Jones