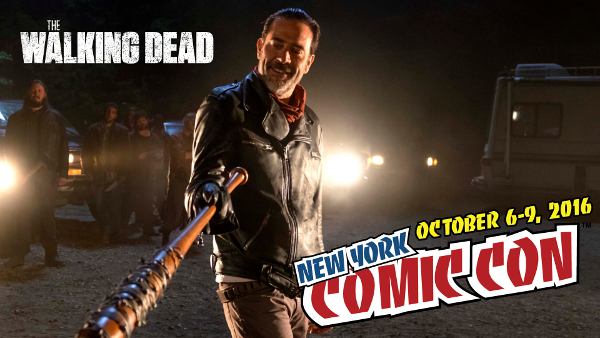 AMC's The Walking Dead has continued to draw superfans from across the world to New York Comic Con. Undoubtedly the most anticipated panel of the convention, it anchored Saturday's lineup at Madison Square Garden. People had begun to line up in the wee hours of the morning, waiting for the first sneak peak of the seventh season, and to see their favorite stars up close and in person. The venue, new to the con, does not clear the room in between panels…so any late-sleepers hoping to sidle in later on were out of luck. Thankfully, unlike the Main Stage at the Javits, there was actually a photo pit–much to our pleasure.
Madison Square Garden is probably the only place that could contain such a ravenous crowd. Just a couple weeks before the huge premiere of the next season, the hype is reaching a new high. Following last season and reinforced by the new teaser, major character(s) will be killed off. AMC has already confirmed that the premiere episode will have a slightly longer running time, making way for speculation about what may happen. I saw one fan wearing a t-shirt reading "KILL DARYL – WE RIOT", a clear indication that this is serious business.
After a bit of a delay, host Chris Hardwick came onto the stage to introduce the cast. Fans hit a fever pitch. The lineup was so extensive that there was little room left on the stage for more chairs. Notably, series protagonist Andrew Lincoln was absent, though he left a letter to be read by costar Norman Reedus (and other members of the cast, comically.) The format of the conversations were pretty general–carefully crafted to not reveal any potential spoilers. I felt it was more of a celebration of the series up until this point, and things got quite emotional on stage. Melissa McBride, known for playing 'Carol', received thunderous applause from the audience just for being there, bringing her to tears. Lauren Cohan also had an emotional moment, as she expressed her love for fans' dedication to the series.
The Walking Dead: Season Seven premieres tonight on AMC at 9/8c.