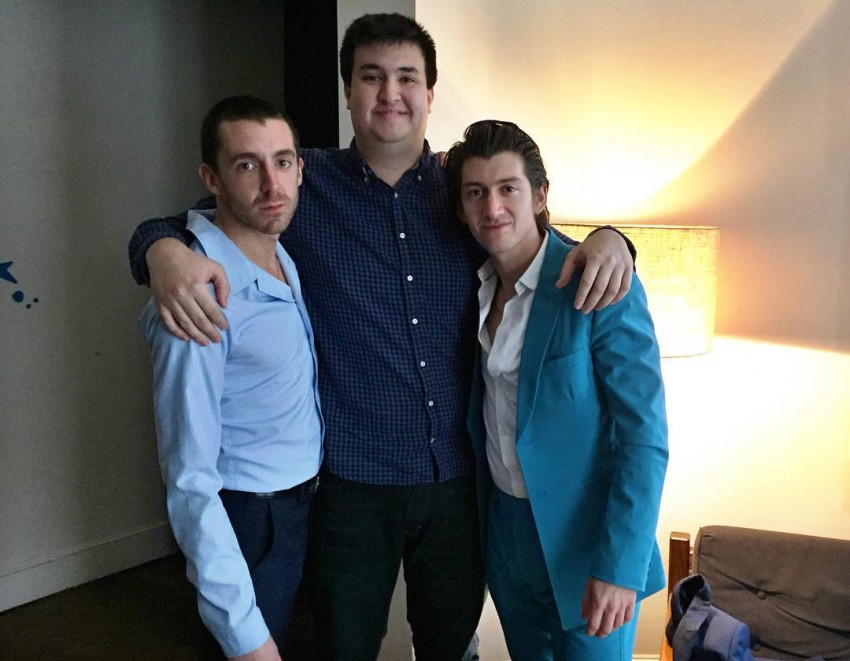 There was a point in time where I started to wonder if The Last Shadow Puppets would ever return. The duo of Alex Turner and Miles Kane had been gone for eight years, understandably busy with their other projects. Thankfully, this year the stars aligned and the duo are back with their long-awaited sophomore album Everything You've Come To Expect, which was released last Friday via Domino Records.
A few months ago on a cold day in early February, I headed to the Ace Hotel to meet up with Alex and Miles, to chat over some fine cups of tea and talk about stepping back into the spotlight, the new album, how they work together as a duo, and what what exactly fans can expect this time around. I even brought up the James Bond comparisons, and what exactly it would take for them to pen the next Bond song.
Enjoy the full interview, which is posted below.

Will: Welcome back to New York! How does it feel to be back?
Alex: It feels wonderful actually. We're really glad to be here.
Miles: It's been a great day!
W: It's been a long road to the new album, a lot has changed since your debut eight years ago. Are you surprised it took this long to follow up?
M: The long and winding road, of Alex Turner!
A: Yeah I suppose there wasn't another opportunity before now, this time both our tours ended at a similar time. We had been writing already, maybe it was going to be for Miles solo album, but then it all clicked into place on "Aviation." A lot of these decisions, you try and plan it out and you think, "oh we can do it then," but until you have the actual feeling where you think that we ought to be doing this again, you're not really going to get anywhere. We had that moment with "Aviation" which was maybe originally going to be a song for Miles.
W: It's one of my favorites off the album so far, It not only opens the album well, but serves as a nice welcome back statement.
A: It's the establishing shot! We had been demoing on my Tascam 388 eight-track recorder, working on some stuff on that, and then we just had to convince James Ford to do it again.
W: I'm sure he doesn't mind working with you after all this time.
A: We talked about doing this all again a couple times but it never happened for whatever reason, and one of them was there just wasn't a time or a place. "Haven't we all moved on from that?" But eventually we managed to convince him to give it another shot.
W: This leads nicely into my next question: When did you guys begin working on the album and why was now the right time to bring it all back?
A: I think it was time to do it. (Miles and Alex then break into David Bowie's "Time" singing "Time, he's waiting in the wings.") There was that song ("Aviation") and it made us excited hearing our voices together again, and it started happening man. Miles was out in L.A. and we were working on his stuff and we suddenly got excited about the prospect and what the possibilities were. That was the whole thing in the beginning when we did the first one, it was a chance to explore. There's inherent possibilities in it when you recognize that it's outside the sphere of the other thing, whether that's the Monkeys or Miles' work.
W: How was the approach different this time around. Did you guys go in trying to separate yourself from the first album?
M: At the start we were thinking you know, there's a clear influence on the first record with Scott Walker and Ennio Morricone. Obviously we still like that stuff, but we were looking for a new thing, whether it would be sounding something like, say, Sparks. We did search for that for a bit, but then it became clear that being together and doing the tunes together was its own identity in a way. We decided those songs would fit with the strings again and hopefully it seems like a natural lead from the first record. In the end, we try to keep it as similar to the first as possible. The song has moved on and there's more variation tune wise, but everything else is pretty much the same.
A: I think lyrically that first album is the first time we had written or attempted to write lyrics that weren't so observational or temporal or attempting to consider the lyrics occasionally as another component along with the melody.
(Miles goes to the snack table offers Alex and I chocolate wafers he finds in the room)
A: Sometimes that worked on the first album, it created a mood. And one of the things that contributed to that was the lyrics. It wasn't storytelling all the time, is what I'm trying to say. But sometimes, we went so far into abstraction that it's just like "what the fuck does it mean?" This time the lyrics are a bit more effective and more refined.
W: You recorded it at Shangri-La Studios in Malibu, California. And you both live in LA now. How much did the atmosphere play into the recording?
A: Yeah, not as much as I expected it to actually.
M: The riffs weren't much in the shirts. That hasn't happened yet. Yeah if you sat down and lived on the beach for two months maybe you'd write some tunes with the waves.
A: Yeah the coastal air gets mentioned once fleetingly.
M: Yeah that's the closest we get.
A: Yeah it's fleeting moments when it gets reference. I actually did expected it to be more.
W: You used to live in Brooklyn, Alex. So, do you prefer LA or NYC? Careful, there's a east coast, west coast rivalry.
A: Oh yeah, I know. When I was here, my time got cut short really. I sometimes wish I stayed longer. I always wanted to wander around a bit. I'm not sure I'm set out there (in LA) forever. I do love it here, and more recently when I've been back, I don't ever want to leave.
W: Can you talk about your songwriting process? Almost all the songs are co-written, do you guys ever fight over who gets to take the lead? How is that decided?
A: Sometimes it's obvious. Like "Bad Habits," he's already finished singing it and I'm still on the start line
M: And like "Sweet Dreams, TN," they're our two bookends in a way.
A: The ones where we're singing together and there's two harmonies, it's just trying it out and seeing who goes on top? (laughs) So you try it out and see which way it sounds better.
W: Do you guys ever write songs for yourselves and think maybe it's better for the other to sing?
M: He always said when we were doing "Aviation" he really wanted me to say the words "Sectoral heterochromia," and I was like, "That is a bit of a mouthful man, I think maybe you should sing that, I'm alright on that." But he was like "Nah, I think when you spit that out it will be a thing." To be fair to him, as we sit next to him like he's not here, (turns to Alex) you got a good vision for that. You do.
A: Yeah. I do have a good vision for that (laughs)
W: How is the approach different working together than from your work with Arctic Monkeys and your solo work?
A: In the Monkeys, sometimes stuff starts with a drumbeat or a musical idea, this more often than not is a more classic approach, thinking in terms of chords. I think that the last record had more interesting chords and progressions than we perhaps had done before than. And again, this time we were trying to, "use the little finger more," as Miles puts it, and put some more interesting movement in it. So we were conscious of that, but it's just me and him sitting around with an acoustic guitar and someone pacing the room. Usually I'm playing the guitar and I've got quite of these ideas from this record I remember coming from Miles sitting down with a musical idea.
M: Like the chord of "Dracula Teeth' or those seventhy chords that a few years ago we'd be like "ugh, that's wrong."
A: That's a good point. We were definitely interested in the sparkly chords. As close as you could get to the cheese board, without..
M: Without cutting the knife it
A: Getting your fingers burnt! (both laugh)
A: You try to go operate as close to that, and pull it back maybe to some lyrical idea, as opposed to the sound of those chords. Something inherent in some of those major seventh chords that you feel like you're about to get it wrong, but you pull it back the other way. I think that's the most exciting bracket to be in, if you can. There's a whole lot of components that contribute to that balancing act. That's the thing with James Ford, working with him, you know when you've gone over that line when it doesn't feel right anymore.
W: How was it working with James and Owen Pallet again?
A: Yeah this time so much time has passed, we knew the album would be different enough, so we wanted to keep as many of the same people involved as on the debut. We added Zach Dawes (from Mini Mansions) on the bass, partly so we can play it as a band in the studio, because before someone was playing the bass, at the time that was unusual for us to do. But now since we made that record, setting up as a band and recording live seems unusual. We had Owen come down to the studio this time and hang out while we were working on it. So he'd be fiddling away in the other room, quite literally sometimes, while we were working on a track and then he'd float into the control room and have an idea for something. But the fact that he was next door, let him draw different conclusions than he would have, or that he was able to last time.
W: I don't know how much you're allowed to say at this point but what's the live set-up going to be like for the upcoming tour. Will the string section be with you? Will James be behind the kit?
A: I don't think so, but we will have Zach. Last time we had a 16-piece orchestra every time which is just not feasible for a lot of these shows
M: Yeah, and we're doing a lot more shows this time. So I think it will be better for the show even.
A: It will sound better, you know than, picking an orchestra for every date. I don't think you'd get the benefit in a lot of the rooms that we're playing with the orchestra.
W: Yeah I don't think they'd fit at Webster Hall.
A: Exactly!
W: Can you talk about the choice to release "Bad Habits" first? It's a big departure from what fans may have been expecting from the first record and it's even different from a good chunk of the album.
A: Yeah, I think that's good though. I think it signifies that there's a progression from the first record, and at that point, I suppose that's one of the only things I'm trying to do. And put something exciting out there, we were excited about it. The other thing is, it felt natural because while we were recording, we shot some footage in this bar one night in Malibu, that became the basis for the music video where we play it. So we were out in the bar, this covers band playing stuff like "Hotel California." So we thought, what this really needs is for us to get up and play (laughs). So after some negotiation we got up and played and had that footage.
W: How did that go over in the bar?
M: There were like 12 people in the bar (laughs)
A: You can hear them at the end of the video, you get that real reaction, you know?
W: Now there's a certain set of expectations for this record based on the positive response of the first record and the success of your other groups. Does the album's title Everything You've Come To Expect tackle that notion?
A: It's definitely different from the first time. As last time there was absolutely zero expectations last time. But you don't dwell on it. But for that reason, it has been so long, so a lot of people don't even know what it is at all. You do you're best to not to let it affect you anymore than it usually would. I guess there's almost an excitement that comes with the idea that you are going to be able to play these songs.
The album title obviously comes with a wink. Those things, especially the decision to title anything, is more about a feeling where something clicks into place. At that time you try to prize it out, and often you do prize it out and then something else will click in. Eventually time runs out and you got the tightest fit that you have. This time everything seemed so varied, it's not like we could take a title from a theme on the record, or the sound of it. It's not like we could name the sound or that we'd even want to. So "Everything You've Come To Expect," is maybe partly maybe about drawing attention to that song on the record.
M: We were really loving that tune.
A: If there's gonna be a title track, this could be the centerpiece. I mean there's a couple reasons why that was the tightest fit for a title, but the bottom line is that it stuck. It feels right.
W: So I take it that's your favorite song off the record?
A: Yeah, that's the one that is the most far out that we go in every respect.
M: It feels like that could be the start of another avenue as well, which is exciting.
W: You said last time Scott Walker was a major influence. Who were some major influences this time around in terms of other artist, albums, or even films and books?
M: Yeah I suppose it was less of a focus on the one particular thing.
A: Last time I was just getting into Scott Walker, and the idea that we could go and make a record like that then seemed outrageous at the time. We went chasing that thing, while this time I suppose all the influences have soaked in a little bit more. We've heard much more music, and for that reason it's like polarization to some point or degree. So it's not as clear this time, and perhaps what we were listening to individually at the time when we were leading up to making the record and writing the songs, wasn't so influential. But there are moments when we were talking to Owen about a string part and mentioned Hot Buttered Soul by Isaac Hayes or we were kind of chasing the shimmering quality that you might get with some of The Style Council's tunes. There's this song by Ned Doheny called "Give It Up For Lover" of this album called Hard Candy that we liked. And its like maybe to quite specific things like the way the acoustic guitar strum works. It was more odd little things like that, listening to Tears For Fears and Depeche Mode..
M: And The Prodigy!
A: And yeah, it's less of like the stimulus for it this time. And as far as books and movies, I always think of them as an escape, to try and get away from the music for a while.
W: What drew you guys to that photo of Tina Turner to use it as the album cover? How'd that come about?
M: It's a picture Alex has in his kitchen, and it was one that years ago when he first got it, we said that would make a cool album cover.
A: We just didn't have an album!
M: Yeah, and then for this one that was our first idea. We tried some other ideas, and we were like, you know what, let's stick to the original plan.
A: Yeah that was the first piece of a puzzle in a way, although we didn't know it! And I do love Tina Turner!
W: How do you guys feel about your songs being described as sounding like it could soundtrack James Bond? Even recently for Spectre you guys were rumored to be in the running for the theme song. Would that be something you'd be interested in doing?
A: Possibly. If Idris Elba gets the role. That's like the condition. But not until that happens.
M: And he'd after to sing harmony.
A: That's a rumor as well, isn't it?
W: Yeah, unless Craig comes back.
M: I like Craig. Daniel Craig went to my school. James Bond. Rock star.
A: Maybe Miles will be the villain.
M: Maybe I should be the next bond!
A: Maybe Miles is the next Bond and me and Idris Elba do the tune for it, hows that?
The Last Shadow Puppets will make their live return to New York City next week with a sold out performance at Webster Hall. Everything You've Come To Expect is available to purchase right now over at Domino.
---
Join the conversation