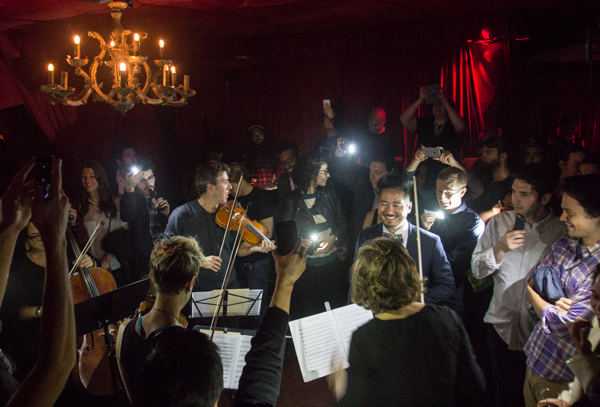 Much earlier in 2015 I caught Kishi Bashi at the Brooklyn Masonic Temple. He sounded great as usual, but the venue had no heat, and a pipe burst on stage, delaying the show significantly until they were ready to go. Bashi made it up to fans with a free show (if you purchased tickets to the Brooklyn show), as well as a much smaller performance at The McKittrick Hotel on November 4.
The performance was in celebration of the release of his new live album, String Quartet Live (released via Joyful Noise Recordings). Like he did at the Brooklyn show he recreated this live album with a string quartet, providing beautiful lush string arrangements for his already lovely songs. Getting to see them in such a tiny space made the experience that much richer, especially considering it was Kishi's birthday. A little cake was brought out as we all sang "Happy Birthday" to the birthday boy himself, turning the tables a bit.
The highlight of the night was during the encore, which saw Bashi and his entire string quartet somehow manage to come to the back of the room and fit around inside the crowd which huddle around them. The lighting was too dim for the players to see, but fans helped solve that by using their phones lights as some impromptu lighting. They then delighted us with a cover of The Talking Heads' "This Must Be the Place (Naive Melody)," along with "Song For The Sold," and an amazing version of "Manchester" that gave me goosebumps as the crowd helped sing along with the chorus. It was one of the coolest concert moments of the year (there were a lot of them in 2015), and one that I just happened to capture on video.
Find the live video of them performing "Manchester" with the help of the crowd below, along with the setlist and a photo gallery from the night.


Kishi Bashi Setlist:
1. Bittersweet Genesis for Him AND Her
2. Carry on Phenomenon
3. Philosophize in It! Chemicalize with It!
4. In Fantasia
5. I Am the Antichrist to You
6. A Sunday Smile @Cover[0af78501-5647-4c18-9a0d-66ac8789e13b]
7. Conversations at the End of the World
8. The Ballad of Mr. Steak
9. Atticus, in the Desert
10. Q&A
11. Bright Whites
Encore:
12. This Must Be the Place (Naive Melody) @Cover[a94a7155-c79d-4409-9fcf-220cb0e4dc3a]
13. Song For The Sold
14. Manchester