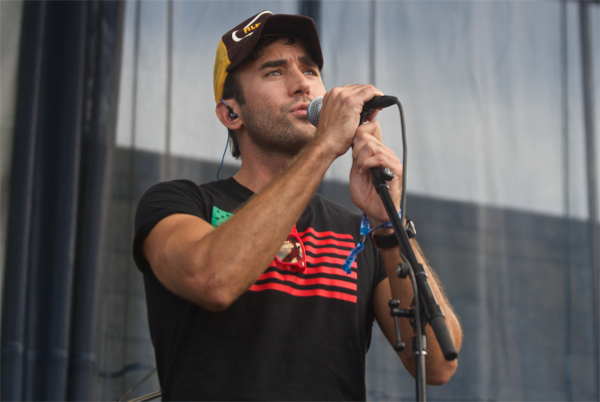 Before taking the stage at Newport Folk Festival, Sufjan Stevens noted that he was following James Taylor, no easy task. But Stevens is more than capable of holding his own alongside a folk legend such as Taylor, as he is well on his way as one of the best songwriters of this generation, by a mile.
Earlier in the year I caught Stevens at both The Beacon Theatre and The Kings Theatre, equally impressive performances that are both two of the finest shows I've caught all year. A festival is always a different element for an artist like Stevens, but of course he found a way to make it his own.
Being a folk festival, Stevens found time to work in some old favorites during his early folk-friendly days, such as "In The Devil's Territory" and "The Dress Looks Nice On You." Of course, these fit in alongside the exceptional cuts from his stellar Carrie & Lowell as well as beefed up versions of Illinois highlights such as "Come On! Feel The Illinoise!" and "Chicago," which was played as different as I've ever heard it.
That's the thing about Stevens, you never quite know what he will throw at you, but you're always at ease knowing it's going to be gold. This performance was no different.
Find some more photos from his Newport performance posted below.

Setlist:
1. Should Have Known Better
2. In the Devil's Territory
3. All of Me Wants All of You
4. Casimir Pulaski Day
5. The Dress Looks Nice on You
6. For the Widows in Paradise, For the Fatherless in Ypsilanti
7. Fourth of July
8. Carrie & Lowell
9. Come On! Feel the Illinoise!
10. Chicago