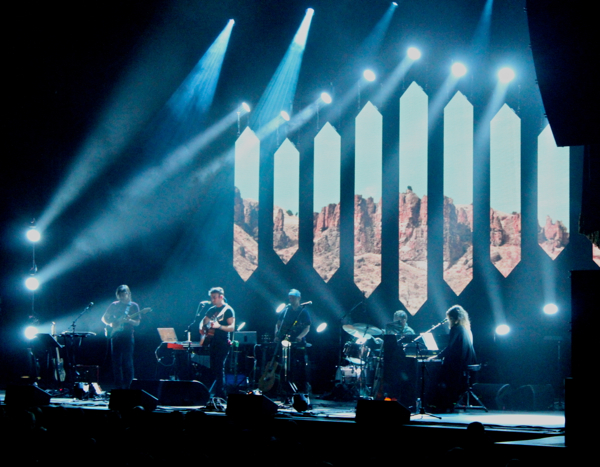 What's there to say about Sufjan Stevens and his beautiful new album Carrie & Lowell that hasn't been said by everyone else? My love for the album is no secret, it's already a heavy favorite to be my album of the year, and it's only May. Of course things can change from now until December, but it's going to take one hell of an album to dethrone Stevens' latest masterpiece. Last month Stevens performed the first of his New York shows at at The Beacon Theatre, a performance so good that I made sure to catch one of his two return shows, this time at the newly opened and restored Kings Theatre in Brooklyn.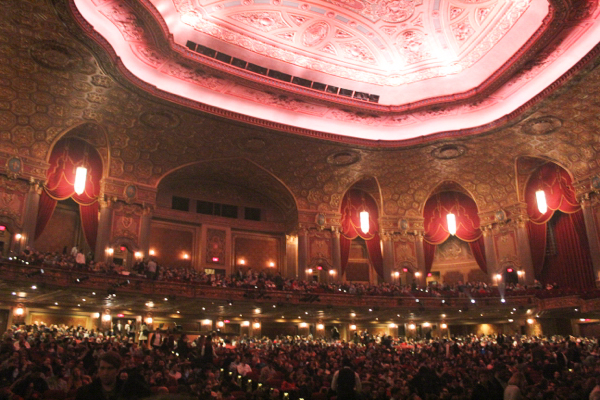 This was my first time at Kings Theatre, and who better than Sufjan to welcome me to the gorgeous space. This is no exaggeration, but Kings Theatre may just be the most beautiful place to see a show in New York. While arriving to the theatre you could see the awe on everyone's faces as they took in the architecture, but it wasn't until you stepped inside the actual theater where you really get lost in its power. It only took a few seconds for me to realize that this was the perfect place to see someone like Stevens share his haunted folk songs.
The performance from Stevens was endearing and magical, with the heartbreaking songs of Carrie & Lowell shining through. These are songs about Sufjan's late mother, who struggled with mental illness and addiction, abandoning Stevens family at a young age. The album is a reflection of memories of his mother, and some of the pain that he experienced. But he comes to terms with the pain in such a harmonious fashion that live the performance is not a downer, but a shared celebratory experience. For one, he celebrated the life of his stepfather Lowell, whose taste in music helped introduce Stevens to artists such as Nick Drake, helping to gear Stevens towards his remarkable career in music.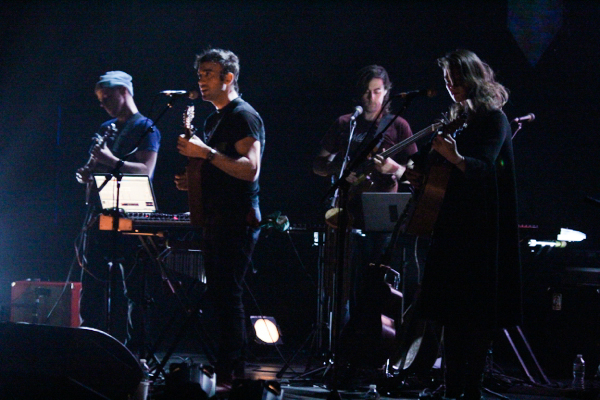 The setlist stayed true to what was played at The Beacon, with Stevens playing all of Carrie & Lowell sprinkled throughout the regular 17-song set, but this time saw him return to old favorites like "In the Devil's Territory," "Casimir Pulaski Day," as well as The Age Of Adz opener "Futile Devices," a personal favorite of mine that I was excited to see him return to.
Stevens hardly said a word up until the 12th song of his set, the devastating touch of All Delighted People's "The Owl And The Tanager." He embarked on a long-winded tangent that began thanking us for the encouraging clapping, which eventually went into a variety of musings that ended with Stevens discussing the film Bring It On Again. It was a stark contrast to the man just singing these heartbreaking songs, but it showed how talented Stevens is that he is able to just become a performer and perform these songs at a moments notice.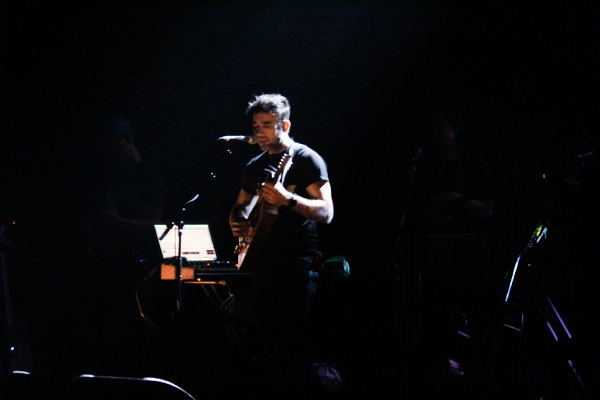 The expansive performance of "Blue Bucket Of Gold" ended the regular set, transforming the stage into a giant illumination of disco ball reflections as Stevens and his band powered through the epic rendition of the track. He returned for a 4-song encore of "Concerning the UFO Sighting Near Highland, Illinois," "To Be Alone With You," "For the Widows in Paradise, For the Fatherless in Ypsilanti," and "Chicago," which sounded even better than the Beacon show.
I could rank this performance to his one at Beacon last month, but there's no need. Both shows were special in their own ways, and the venues provided a different landscape that ultimately played a big role in the atmosphere of the show. But I will tell you this, both of the shows are likely some of the best shows I will see all year. If he's coming to a theater near you during this tour, don't think about it, just go. You'll be sorry if you miss it.
Sufjan Stevens Setlist:
1. Redford (For Yia-Yia & Pappou)
2. Death With Dignity
3. Should Have Known Better
4. Drawn to the Blood
5. All of Me Wants All of You
6. Eugene
7. John My Beloved
8. The Only Thing
9. Fourth of July
10. No Shade in the Shadow of the Cross
11. Carrie & Lowell
12. The Owl and the Tanager
13. In the Devil's Territory
14. Casimir Pulaski Day
15. Futile Devices
16. The Dress Looks Nice on You
17. Blue Bucket of Gold
Encore:
18. Concerning the UFO Sighting Near Highland, Illinois
19. To Be Alone With You
20. For the Widows in Paradise, For the Fatherless in Ypsilanti
21. Chicago