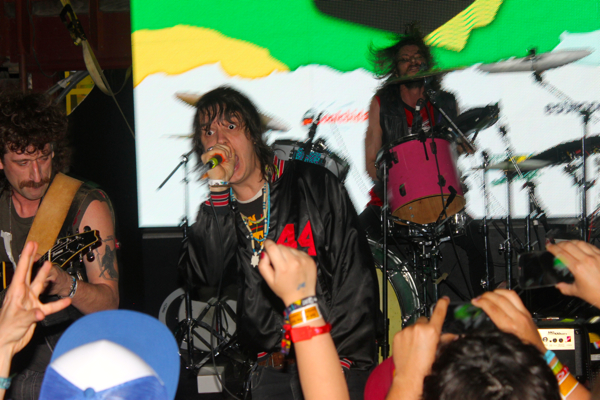 I had high hopes for Julian Casablancas' new solo stuff. I guess it's more so him and his new band, The Voidz, but who are we kidding? It's all his. Although after witnessing one of their first live shows together at Cedar Street Courtyard for SXSW, Julian may want to opt for the project being more of a group effort.
I, for one liked his debut solo record Phrazes For The Young. Sure, it wasn't anything groundbreaking, but as a solo effort, it was very solid with a few standout tracks that would have done just as well – if not better – than a lot of the latest Strokes songs. I figured that his follow-up record would build upon what he did on that record, but based on what I heard in that cramped Cedar Street Courtyard, he took things into a questionable new direction.
It didn't help that he came out 25 minutes late, or that his band was a boring cast of characters that just looked like dirtier versions of The Strokes members. The songs that he played screamed out at the crowd "HEAR ME, I AM COOL" but all I heard was a dull sketch of various ideas that never hit their stride. A song or two hit pretty hard, but even the highlights were forgettable when compared with his performances of The Strokes' "Ize Of The World" or "River Of Brakelights" from Phrazes. These were the clear highlights, as they were the only songs the crowd was collectively enjoying.
For the most part during his new songs with The Voidz, the crowd looked puzzled and bored. I thought it was just my own judgements being projecting on others, and that it was 1 a.m. and we were all tired, but then I saw the sad reality that the songs just weren't that good. The new stuff sounded heavily produced, so maybe it will all sound great recorded. Though none of that matters right now, as we are judging the songs based on how they are performed live, and I hate to say they were quite disappointing.
The next day at Fader Fort he performed his Daft Punk collaboration "Instant Crush" live. He was supposed to perform that at the show I attended as well (based on the setlist that a fan had), but he decided not to play it. He didn't seem to be too into the performance, and either did the crowd. I love The Strokes, and I love Julian, but the show was a massive disappointment that only lasted 8-songs, and felt way shorter in memorability. Not a good sign.
Find some photos of the show plus the setlist, posted below.Setlist: