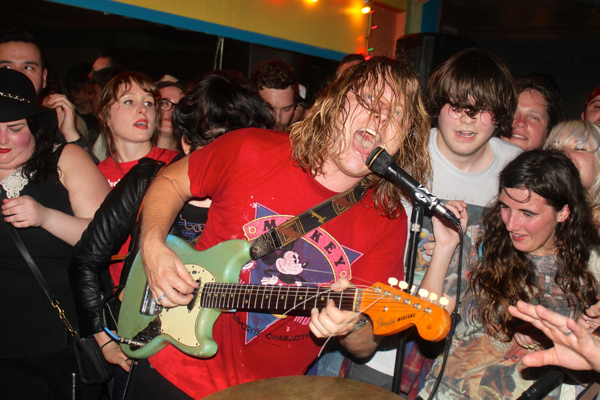 I've seen Ty Segall a few times live now and every time is a special treat. He always brings a furious amount of energy to his live shows, even if its an acoustic set.
He was the headliner at the amazing showcase at Street-Legal Guitars, and it was one for the ages. Not only was it the best show that I saw at SXSW, but it was easily the best show that I've seen all year.
From the get-go the band sent the crowd into a wild frenzy. Soon the temperature was blazing, and everyone was dripping with sweat. With the crowd surrounding the band on the floor, it wasn't too uncommon to see Ty and the band fighting for their own positions "on stage" in order to prevent becoming fully engulfed within the crazy moshing of the crowd.
Ty and his band delivered a full set that was as electric and riveting as any rock show that you'll see all year. The man is just a pure rock star, a genius of sorts. It was cool to see fellow genius John Dwyer (of Thee Oh Sees) watching the show from behind, in just as much awe as us while he took in all the action.
Go see Ty Segall the next chance you get. He will not let you down.
Photos of his insane set posted below.