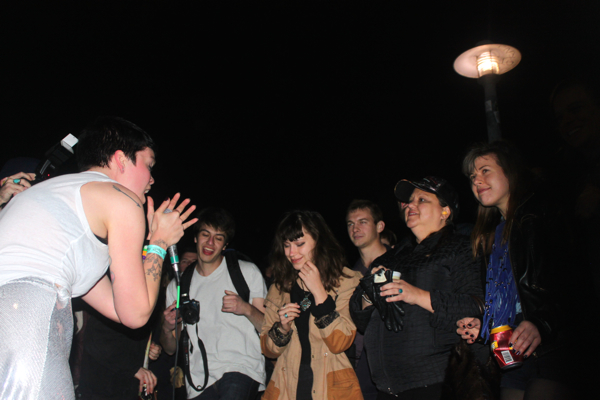 After a tiring Ty Segall show, I made it over to the Pedestrian Bridge to catch a performance from punk-rockers Perfect Pussy on top of the Pedestrian Bridge. What has now become a late night tradition, bands gather on the Pedestrian Bridge, pull a few speakers together and play some music. It's an awesome concept.
It was quite a walk to get over there, so I only caught the tail-end of their set, but that was all I needed to get my first proper taste of the band. Loud, fast-paced, and lots of energy. For the finale bassist Greg Ambler chucked his bass off the bridge into the river below. It was quite a dramatic statement, but a memorable one for sure.
I still have yet to catch a full-length set from them, but that will change when they play Mercury Lounge on April 5.
Check out some photos from their set below.