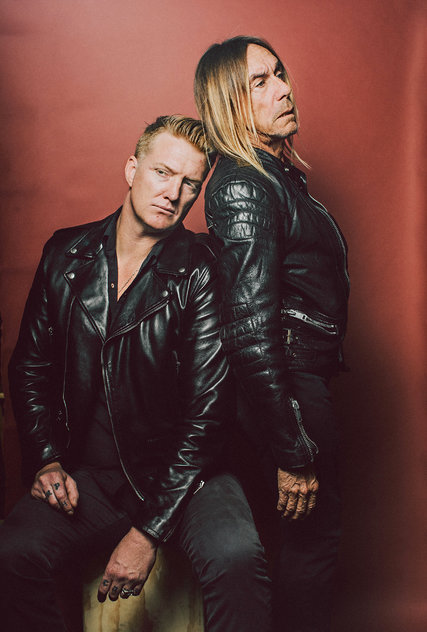 All the worlds are starting to collide. Rock icon Iggy Pop and Queens Of The Stone Age frontman Josh Homme have announced that they've recorded an album together, and it features some contributions from Arctic Monkeys drummer Matt Helders as well, making the already great deal that much sweeter. The album is called Post Pop Depression and will be released in March via Loma Vista Recordings.
The New York Times'Jon Pareles provided an in-depth feature about the project, giving us some great insight into how it all came together. It features nine tracks that were recorded "in brief bursts" at Homme's two studios, with one week at his studio in Joshua Tree, and the other at Pink Duck. They collaborated under the condition that neither one bring in completed songs, only ideas. Along with Helders on drums, the only other addition to the studio recordings was Dean Fertitia also of Queens Of The Stone Age, as well as The Dead Weather.
The live band will feature Troy Van Leeuwen (also of Queens Of The Stone Age) and Matt Sweeney of Chavez, along with Helders and Fertita. The shows will be intimate and hard to get into, with Homme saying "There won't be hardly any shows, and they won't be in big places, and you won't be able to get a ticket. So almost everyone won't see it. It will be like trying to catch smoke in your hands. And that makes it even better. It will be special, and it will be over in the blink of an eye.
Today the group released first single from the album, "Gardenia," a track that may or may not have been chosen to be premiered first because of its very David Bowie sound. Iggy Pop sounds great, given an extra bit of punch with Homme by his side, and Helders behind the kit.
Below find the official stream of "Gardenia" posted below, along with their performance of it on The Late Show with Stephen Colbert last night, which marked their official live debut. Can we just note how amazing it is to see Helders behind the kit with Iggy Pop and Homme?
"Gardenia":
"Gardenia" live on The Late Show with Stephen Colbert: