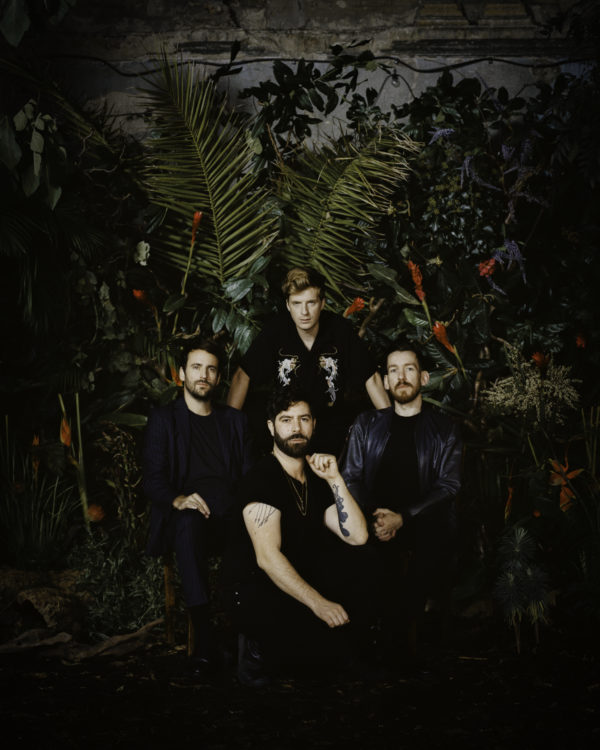 Earlier today Foals announced that they're back with not one but two new albums this year entitled Everything Not Saved Will Be Lost – Part 1 & 2 (released via Warner Bros). Part 1 will be released on March 8th with Part 2 coming this Fall. This is the band's first album in four years (What Went Down in 2015), their longest break between albums so far. It also is their first album without founding member and bassist Walter Gervers, who left the band last year.
So in many ways, this feels like a turning point in the band's career, which had me very intrigued with what the new material would sound like. With a two-part album on the way, it's clear this is going to be some of their biggest and most ambitious work to date.

Along with the album announcement, they released the first single from Part 1, "Exits." The track definitely has familiar elements that fans have come to expect from Foals, but it definitely takes more a more textural and atmospheric approach without a big chorus or pop moment that maybe some fans are used to or expecting. But still, it's very much a Foals song.
The music video for the track has a very cinematic quality (like a mix of Stanley Kubrick and Yorgos Lanthimos) and stars Christa Theret and Isaac Hempstead Wright (Bran Stark on Game Of Thrones).
Find the video posted below, along with the album's tracklist and a list of their upcoming tour dates in support of the album.
Everything Not Saved Will Be Lost – Part 1 Tracklist:
1. Moonlight
2. Exits
3. White Onions
4. In Degrees
5. Syrups
6. On the Luna
7. Cafe D'Athens
8. Surf Pt.1
9. Sunday
10. I'm Done With The World (& It's Done With Me)
Foals Tour Dates:
March 16 /// Mexico City, Mexico /// Vive Latino 2019*
March 18 /// Vancouver, BC /// Orpheum Theater
March 19 /// Portland, OR /// Roseland Theater
March 20 /// Seattle, WA /// Paramount Theatre
March 22 /// Oakland, CA /// Fox Theater
March 23 /// San Diego, CA /// The Observatory North Park
March 24 /// Los Angeles, CA /// Shrine Auditorium
March 27 /// Las Vegas, NV /// Brooklyn Bowl
March 30 /// Buenos Aires, Argentina /// Lollapalooza 2019*
March 31 /// Santiago, Chile /// Lollapalooza 2019*
April 2 /// Santiago, Chile /// Lollapalooza Sideshow @ Teatro La Cúpula*
April 5 /// Sao Paulo, Brazil /// Lollapalooza 2019*
April 13 /// Brooklyn, NY /// Brooklyn Steel
April 16 /// Washington, D.C. /// 9:30 Club
April 19 /// Boston, MA /// House of Blues
April 20 /// Philadelphia, PA /// The Fillmore
April 22 /// Toronto, ON /// Rebel
April 24 /// St. Louis, MO /// The Pageant
April 26 /// Detroit, MI /// Saint Andrews Hall
April 27 /// Chicago, IL /// Riviera Theatre
April 28 /// Milwaukee, WI /// The Rave
April 30 /// Minneapolis, MN /// First Avenue
May 3 – May 5 /// Atlanta, GA /// Shaky Knees Festival 2019*
May 12 /// Brussels, Belgium /// Ancienne Belgique
May 13 /// Paris, France /// Bataclan
May 15 /// Lausanne, Switzerland /// Les Docks
May 16 /// Milan, Italy /// Fabrique
May 17 /// Luxembourg, Luxembourg /// Den Atelier
May 19 /// Amsterdam, Netherlands /// Paradiso
May 20 /// Berlin, Germany /// Huxleys
May 24 /// Newcastle, United Kingdom /// This Is Tomorrow 2019*
June 5 /// Hamburg, Germany /// Grosse Freiheit
June 6 /// Aaarhus, Denmark /// Northside Festival*
June 7 – June 9 /// Nürburg, Germany /// Rock Am Ring 2019*
June 11 /// Manchester, United Kingdom /// O2 Victoria Warehouse
June 14 /// Tunbridge Wells, United Kingdom /// Bedgebury Pinetum
June 15 /// Birmingham, United Kingdom /// Digbeth Arena
June 18 /// Glasgow, United Kingdom /// SWG3 Galvanizers Yard
June 20 /// Thetford, United Kingdom /// Thetford Forest
June 21 /// London, United Kingdom /// Alexandra Palace
June 24 – June 26 /// Zagreb, Croatia /// Inmusic Festival*
June 26 /// Bournemouth, United Kingdom /// International Centre
July 2 /// Dublin, Ireland /// Trinity College
July 5 /// Barcelona, Spain /// Festival Cruïlla 2019*
July 5- Jul 7 /// Ewijk, Netherlands /// Down The Rabbit Hole*
July 26 – Jul 28 /// Benidorm, Spain /// Low Festival 2019*
August 1 – Aug 3 /// Lustenau, Austria /// Szene Open Air*
*Festival Date