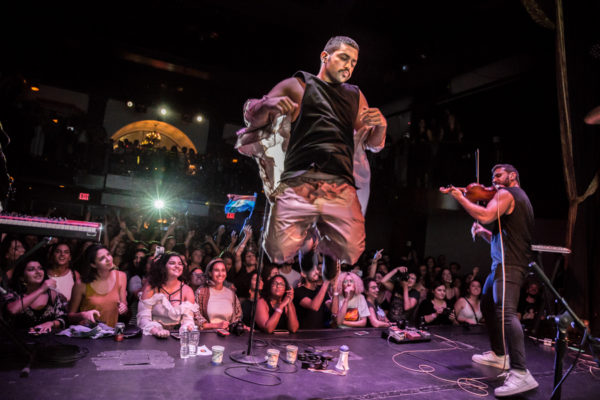 All photos by Omar Kasrawi
Music can transcend so many things. It can be the bridge across the chasmic void. Or it can be the spark that causes you to lock arms with a complete stranger and face down the oncoming high tides. And when a band is as sonically charged and melodic as Mashrou' Leila, you don't need to understand the Arabic lyrics to be lifted to a higher plane of understanding. And that's exactly what went down in front of packed Bowery Ballroom on a hot, sweaty September night in New York.
This Lebanese five-piece has been making waves here for a few years now, and it's nice to see this North American road trip largely devoid of a horrific event that thrusts the band into the spotlight, because let's face it, this band deserves to be known for their rocking tunes before anything else. And that in no way is meant to detract from the amazing social awareness that they bring with them in music and interaction with their fans.

Lead singer Hamed Sinno continues to prowl the stage with the charisma of the great frontmen of eras gone by. It's understandable if you can't take your eyes off his serpentine dance moves and movie star good looks, but it's the pain and force exuded in his voice that really set him apart.
But if your eyes and ears are going to wander during a Mashrou' Leila gig there's not a single musician in the band who doesn't deserve your attention. The interplay between Sinno and violinist Haig Papazian continues to evolve with each show they put on. The come-hither glances and lingering moments are supercharged and sensual. And it seemed guitarist/keyboardist Firas Abou Fakher turned up his guitar licks, walking that edge that makes you want to scream out, "Shred! Shred my brother!" And perhaps out of the spotlight on stage, but just as sonically in command are drummer Carl Gerges and bassist Ibrahim Badr keep the band's sultry rhythms beating for all to enjoy.
A quick glance of the crowd at this show and you can see plenty of people dancing, singing and smiling all while longing to be part of something larger than themselves. A feeling and state of euphoria that Mashrou' Leila delivers with each and every performance, whether you speak Arabic or not.
Find a full set of photos from their performance posted in the gallery below.