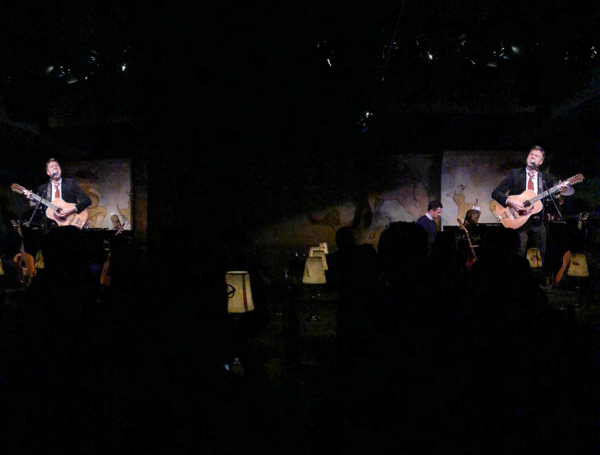 Last November we saw Hamilton Leithauser headline his biggest solo performance to date at Brooklyn Steel. He kicked off 2018 with a set of much smaller performances making up a 10-night run at the historic Cafe Carlyle. I caught the first night of the run on January 16, my first time at the fancy upscale venue (a jacket is required to enter) which provided a rather epic dinner before the performance began.

Leithauser was accompanied by fellow The Walkmen member Paul Maroon, as well as Matt Oliver, who both helped him perform a mix of his new material, as well as covers of Tom Paxton's "Annie's Going to Sing Her Song," Leonard Cohen's "Seems So Long Ago, Nancy," as well as a few choice Walkmen cuts, including "Blizzard of '96," "137th St." and "Blue As Your Blood."
Find the setlist from his performance posted below.
Hamilton Leithauser Setlist:
1. Annie's Going to Sing Her Song (Tom Paxton cover)
2. Blizzard of '96 (The Walkmen)
3. The Bride's Dad
4. When the Truth Is…
5. 138th St. (The Walkmen)
6. In a Black Out
7. Immediately Alone
8. 1959
9. Blue as Your Blood (The Walkmen)
10. Seems So Long Ago, Nancy (Leonard Cohen Cover)
11. A 1000 Times
12. Proud Irene