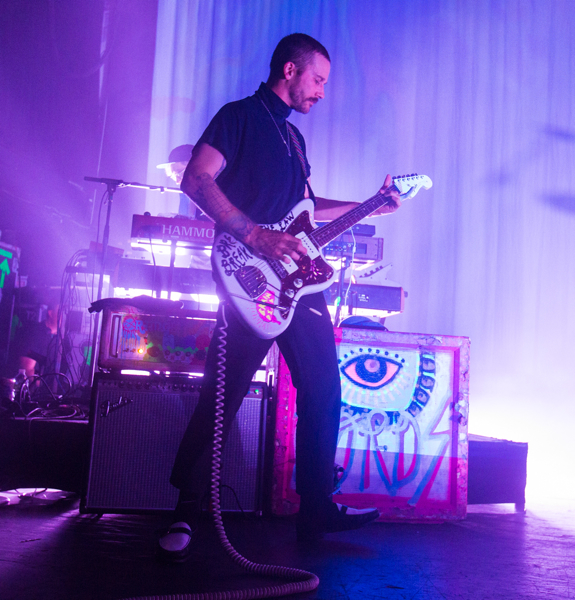 Four years has passed since Alaska rockers Portugal. The Man released Evil Friends, making the arrival of new album Woodstock (via Atlantic Records) the longest wait between albums of their career. But it seems to have paid off, as current single "Feel It Still" has done extremely well, landing a #1 placement on the Billboard Adult Alternative Songs chart as well as #2 on the Alternative songs chart.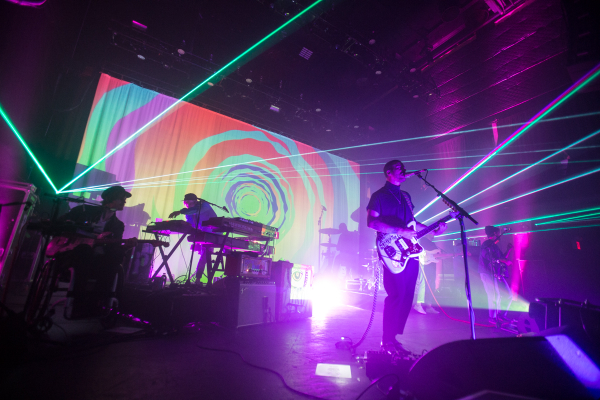 The album's was released on June 16, but the band has been touring hard prior to its release, stopping in for a two-night run in New York at Terminal 5 – where we caught them in 2013.
Portugal. The Man always have a solid rotation of "hits" that you can expect, but you never truly know what each show will bring. This was proven true right from the ge-tgo as they opened with a cover of Metallica's "For Whom The Bell Tolls" before kicking into a solid run of "Purple Yellow Red and Blue," "Creep in a T-Shirt," and "Feel It Still." Along with "Feel It Still" the only other new song played from Woodstock was "So Young," as the rest of set heavily favored Evil Friends along with In the Mountain in the Cloud.
Later on they mirrored this part of the set with encore performances of "Feet It Still" and "Purple Yellow Red and Blue," which they worked into their cover of Pink Floyd's "Another Brick in the Wall Part 2." Live, Portugal. The Man indulge in some more trippy psych-rock excursions and even some jammy elements that you don't normally hear on their live recordings, which makes the experience of seeing them live a completely different beast.
Find the setlist posted below, along with a full gallery of photos from their performance.
Portugal. The Man Setlist:
1. For Whom the Bell Tolls (Metallica Cover)
2. Purple Yellow Red and Blue
3. Creep in a T-Shirt
4. Feel It Still
5. Head Is a Flame (Cool With It)
6. Got It All (This Can't Be Living Now)
7. So Young
8. Modern Jesus
9. All Your Light (Times Like These) / A Kilo / The Home (Excerpt) / I Want You (She's So Heavy) (The Beatles Cover) / Someday Believers (Excerpt)
10. Waves
11. Holy Roller (Hallelujah)
12. So American
13. Feel It Still
14. Another Brick in the Wall Part 2 (Pink Floyd Cover) / Purple Yellow Red and Blue
Encore:
15. Hip Hop Kids
16. Atomic Man