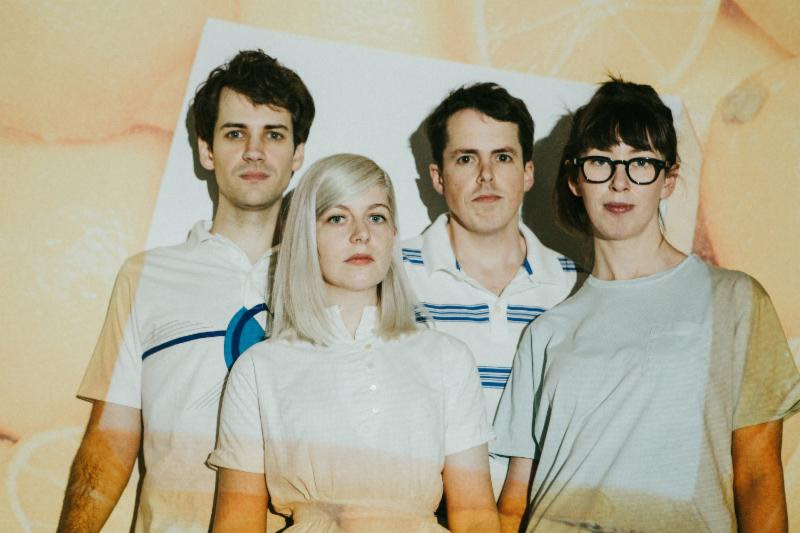 It's been three years since Alvvays delighted us with their self-titled debut in 2014 (three years is a lifetime these days). We've been itching in anticipation of a new record from the Toronto rockers, and they've finally answered our prayers.
Their new album is entitled Antisocialites and will once again be released via Polyvinyl. The album is a brief 33-minutes over 10 tracks, and sees them "dive back into the deep-end of reckless romance and altered dates" and sees them renew "Scot-pop vows with a powerful new collection of manic emotional collage. When describing the album, frontwoman Molly Rankin said: "This record is a fantasy breakup arc and my life nearly imitated art."

First single "In Undertow" is another heavenly slice of dream-pop (about a break-up!) that the band seem to be able to do in their sleep at this point. While it admittedly sticks to the guns that we know they're good at, they have taken a noticeably bigger and more confident approach. Based on the updated press release seen above, it looks like drummer Phil MacIsaac is no longer with the band. While it's always a bummer to see a band shed a member, it sounds like Alvvays are only getting better.
Considering they didn't choose one of the many great new songs that they have been working out live, it sounds like the sophomore slump is strictly out of the question for these guys.
Stream "In Undertow" below and pre-order the album over at Polyvinyl (it's on limited early bird Dark Blue/Light Blue Starburst). I've also shared their newly announced tour dates, which includes a stop at Brooklyn Steel on October 6.
Alvvays Tour Dates:
8.5.17 – Lollapalooza – Chicago, IL
8.5.17 – Empty Bottle – Chicago, IL SOLD OUT
8.26.17 – Belgrave Music Hall – Leeds, UK
8.27.17 – St. Luke's – Glasgow, Scotland
8.28.17 – Leadmill – Sheffield, UK
8.29.17 – Talking Heads – Southampton, UK
9.2.17 – End of the Road Festival – Larmer Tree Garden, UK
9.3.17 – Institute 2 – Birmingham, UK
9.4.17 – Rescue Rooms – Nottingham, UK
9.6.17 – Bullingdon Arms – Oxford, UK
9.7.17 – Gorilla – Manchester, UK
9.8.17 – Koko – London, UK
9.9.17 – Thekla – Bristol, UK
9.11.17 – Point Ephemere – Paris, France
9.12.17 – Blue Shell – Cologne, Germany
9.13.17 – Molotow – Hamburg, Germany
9.14.17 – Musik & Frieden – Berlin, Germany
9.16.17 – Trix – Antwerp, Belgium
9.17.17 – Ekko – Utrecht, Netherlands
9.18.17 – Bitterzoet – Amsterdam, Netherlands
9.30.17 – Music Tastes Good Festival – Long Beach, CA
10.3.17 – Paradise Rock Club – Boston, MA
10.5.17 – Brooklyn Steel – Brooklyn, NY
10.6.17 – Union Transfer – Philadelphia, PA
10.7.17 – Rock & Roll Hotel – Washington, DC
10.11.17 – Terminal West – Atlanta, GA
10.12.17 – Exit / In – Nashville, TN
10.13.17 – Saturn – Birmingham, AL
10.14.17 – One Eyed Jacks – New Orleans, LA
10.16.17 – White Oak Music Hall – Houston, TX
10.17.17 – Mohawk – Austin, TX
10.18.17 – Trees – Dallas, TX
10.20.17 – Meow Wolf – Santa Fe, NM
10.21.17 – Valley Bar – Phoenix, AZ
10.24.17 – Fillmore – San Francisco, CA
10.27.17 – Doug Fir Lounge – Portland, OR
10.28.17 – The Showbox – Seattle, WA
10.30.17 – Urban Lounge – Salt Lake City, UT
10.31.17 – Bluebird Theater – Denver, CO
11.2.17 – First Avenue – Minneapolis, MN
11.3.17 – Thalia Hall – Chicago, IL
11.4.17 – Magic Stick – Detroit, MI
12.13.17 – Mod Club – Toronto, ON
12.14.17 – Mod Club – Toronto, ON
12.15.17 – Mod Club – Toronto, ON
12.16.17 – Mod Club – Toronto, ON