Earlier this year Tim Showalter released Hard Love, his latest album as Strand Of Oaks (which Dead Oceans released). He was supposed to play Music Hall of Williamsburg on March 14, but that just happened to be the day of that pesky blizzard, forcing the show to be rescheduled for May 8.
Showalter joked about the blizzard trying to stop the show from going on, and cheekily told the blizzard to fuck off. He and his band quickly made up for the lost time by opening with "Taking Acid and Talking To My Brother," one of the standouts on Hard Love. Now with months of touring under their belt, Strand Of Oaks played even tighter performances of these songs than I heard them play at Union Pool back in February, as a warm-up show of sorts for this very tour.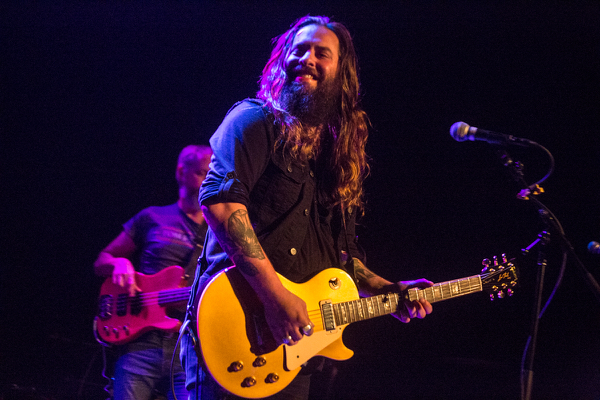 They have the new material locked down and figured out, and they sounded fantastic. The set featured key cuts from the new record, as well as favorites from 2014's Heal, such as "Goshen '97," "JM" and the title track, which Showalter was briefly joined by Kristian Matsson of The Tallest Man On Earth. Aside from this brief surprise, it was a show without any tricks or gimmicks, just some good old fashion rock and roll.
Find the setlist posted below, along with photos from their performance.
Strand Of Oaks Setlist:
1. Taking Acid and Talking to My Brother
2. Kraut Rock
3. Radio Kids
4. Shut In
5. HEAL
6. On the Hill
7. Cry
8. Wait For Love
9. Plymouth
10. Everything
11. Rest of It
Encore:
12. JM
13. Goshen '97