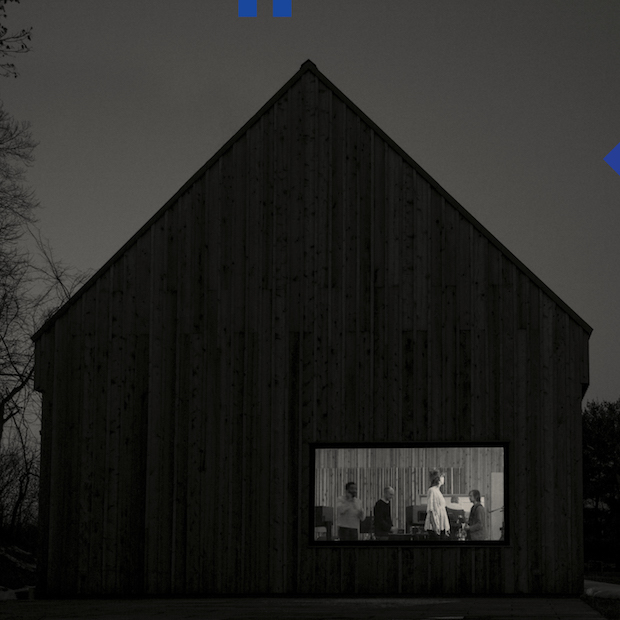 It's pretty hard to believe that it's been four years since The National released Trouble Will Find Me. Fans have been patiently awaiting a new album, with the wait made a bit easier with the bands other projects, including El Vy, LNZNDRF, and the countless work of the Dessner twins. All signs have been pointing towards a new album this year, and the band have been slowly dropping hints about the new record, which was finally announced today.

LP7 is officially titled Sleep Well Beast and will be released on September 8 via 4AD. The album was produced by the band's own Aaron Dessner, with co-production from Bryce Dessner as well as Matt Berninger. It was recorded at Aaron's Huson Valley studio Long Pond, with a few sessions also taking place in Los Angeles, Berlin and Paris.
The band promised to take their sound into new territories and based on early listens to the album's first single "The System Only Dreams In Total Darkness" it's pretty true. It isn't a departure, there are plenty of familiar elements that fans will warmly gravitate towards, but there's also a bit of rhythm shuffling and enough difference to stand out.
This seems to be a good choice as the first single, considering it teases where the band is going with their sound, while also being familiar enough to ease fans in. Either way, boy is it good to have them back.
Check out the official music video posted below, which was directed by Casey Reas and shot with a drone.
Sleep Well Beast Tracklist:
1. Nobody Else Will Be There
2. Day I Die
3. Walk It Back
4. The System Only Dreams in Total Darkness
5. Born to Beg
6. Turtleneck
7. Empire Line
8. I'll Still Destroy You
9. Guilty Party
10. Carin at the Liquor Store
11. Dark Side of the Gym
12. Sleep Well Beast
2017 Tour Dates:>
06/21/17 – Glastonbury Festival – Glastonbury, UK
08/12/17 – HAVEN Festival – Copenhagen, DENMARK
9/16/17 – Cork Opera House / Sounds From a Safe Harbour – Cork, IRELAND
9/17/17 – Vicar Street – Dublin, IRELAND
9/18/17 – Vicar Street – Dublin, IRELAND
9/20/17 – Usher Hall – Edinburgh, UK
9/21/17 – Usher Hall – Edinburgh, UK
9/22/17 – O2 Apollo – Manchester, UK
9/23/17 – O2 Apollo – Manchester, UK
9/25/17 – Eventim Hammersmith Apollo – London, UK
9/26/17 – Eventim Hammersmith Apollo – London, UK
9/27/17 – Eventim Hammersmith Apollo – London, UK
9/28/17 – Eventim Hammersmith Apollo – London, UK
10/05/17 – Wang Theatre – Boston, MA
10/06/17 – Forest Hills Stadium – New York, NY
10/11/17 – Hollywood Bowl – Los Angeles, CA
10/12/17 – CalCoast Credit Union Open Air Theatre – San Diego, CA
10/14/17 – Greek Theatre – Berkeley, CA
10/21/17 – Elbphilharmonie – Hamburg, GERMANY
10/23/17 – Tempodrom – Berlin, GERMANY
10/24/17 – Tempodrom – Berlin, GERMANY
10/25/17 – AFAS Live – Amsterdam, THE NETHERLANDS
10/28/17 – Coliseum – Lisbon, PORTUGAL
10/30/17 – Bozar – Brussels, BELGIUM
10/31/17 – Bozar – Brussels, BELGIUM
11/02/17 – 11/04/17 – Pitchfork Paris, Paris FRANCE
11/04/17 – Annexet – Stockholm, SWEDEN
11/05/17 – Annexet – Stockholm, SWEDEN
11/06/17 – Sentrum Scene – Oslo, NORWAY
11/07/17 – Sentrum Scene – Oslo, NORWAY
11/27/17 – Arlene Schnitzer Concert Hall – Portland, OR
11/28/17 – Paramount Theatre – Seattle, WA
11/29/17 – Paramount Theatre – Seattle, WA
12/01/17 – Queen Elizabeth Theatre – Vancouver BC, CANADA
12/02/17 – Queen Elizabeth Theatre – Vancouver BC, CANADA
12/04/17 – Verizon Hall – Philadelphia, PA
12/07/17 – Metropolis – Montreal QC, CANADA
12/08/17 – Metropolis – Montreal QC, CANADA
12/09/17 – Sony Centre – Toronto ON, CANADA
12/10/17 – Hamilton Place Theatre – Hamilton ON, CANADA
12/12/17 – Civic Opera House – Chicago, IL
12/13/17 – Civic Opera House – Chicago, IL