Hot off the heels of their 5 night comeback run at The Bowery Ballroom, Wolf Parade returned back to New York City for the official kickoff and first night of the 2016 Northside Festival in Brooklyn. We were there for the first night of their Bowery show (which was everything you could have wanted, and more), so getting to see Wolf Parade twice in the span of a few weeks was an absolute treat.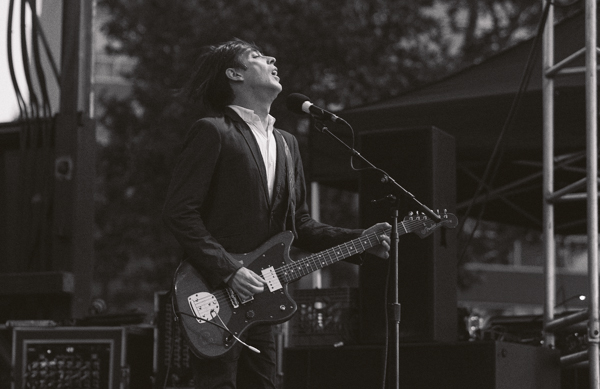 The band kicked things off with "You Are A Runner And I Am My Father's Son," the stellar opening track off their debut Apologies To The Queen Mary which then segued immediately into "Fancy Claps."  If there ever was a way to kick a show off, that was it – the 1, 2 punch of those two songs really set the tone for the rest of the night.  The 15-song set was chock full of the hits and even the new songs from their self titled EP which came out earlier this year.  One might have been worried that the new material might not fit seamlessly into their set, but it fit perfectly.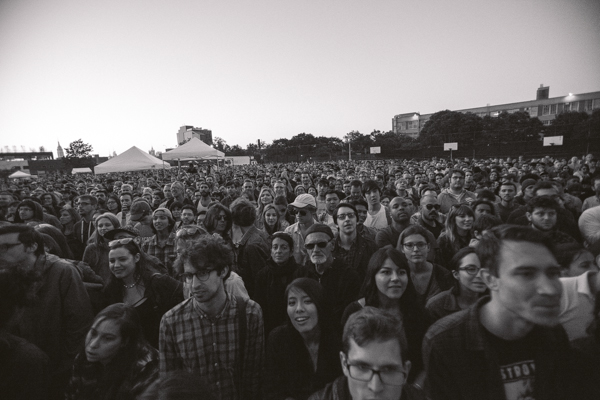 The night was absolutely beautiful by the way, quite the picturesque way for Wolf Parade to return back to New York (yet again), and the band certainly was thankful for the turnout.  Guitarist Dan Boeckner even acknowledged how busy it was by proclaiming, "I think this is the biggest crowd we've played for in New York in a long time." which got a massive roar from the crowd. "Thank you" he kept repeating throughout the night when really, we should be thanking them for being back because boy did we miss them.
For the setlist and more photos, see below:
Wolf Parade Setlist:
1. You Are a Runner and I am My Father's Son
2. Fancy Claps
3. Soldiers Grin
4. What Did My Lover Say? (It Always Had to Go This Way)
5. We Built Another World
6. An Animal In Your Care
7. Shine a Light
8. C'est La Vie Way / Floating World
9. Mr. Startup
10. Fine Young Cannibals
11. Dear Songs and Daughters of Hungry Ghosts
12. Language City
13. I'll Believe in Anything
Encore:
14. This Heart's on Fire
15. Kissing the Beehive