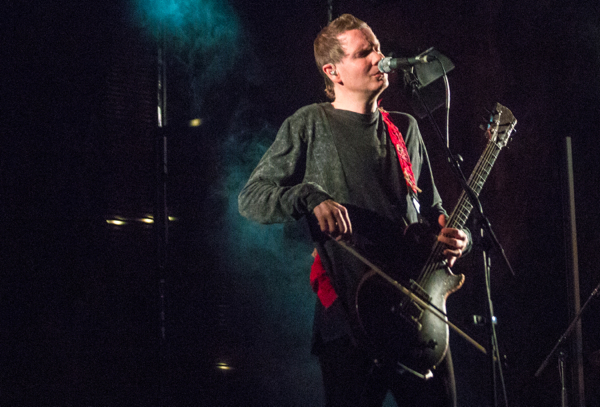 There's shows that you go to, and then there's shows that you engulf you in the experience. Icelandic wonders Sigur Ros fall in the latter category. For nearly two decades now (yeah, it's nearly been that long), the Reykjavík-based band have been making music that's equally spiritual, emotive, uplifting and larger than life. Quite simply, there is no one else quite like them.
It's been three years now since Kveikur, their last studio album. They're currently at work on a new record, using this current tour to test out some new song, and present old favorites with reimagined arrangements. The tour came to New York on October 5, for a sold out performance at Radio City (with two shows at Kings Theatre to follow). It was hard to imagine a more perfect venue for the band, especially considering it was much more intimate than their last show here, at Madison Square Garden.

The group broke things off with two sets lists, with a 15-minute intermission in between. They showed off an impressive stage display and light show that only brought their songs to a more visceral level, truly leaving you lost within their music in more ways than one. It was hard not to be overcome by multiple emotions while watching them deliver all of the sprawling epic that is "Festival," or other heartbreakers like "Starálfur" and the hammering epic set closer, "Popplagið."
It's one thing to listen to Sigur Ros at home, and another to hear those angelic vocals of Jónsi guiding the beautiful arrangements that he and Georg Hólm and Orri Páll Dýrason deliver with such levity and grace. One second your in a trance-like state, lost in awe at the colorful movements of their light show, and then you catch yourself with your eyes closed, soaking every ounce of beauty as if its a fleeting moment you'll never find again. That's what live music is all about, and Sigur Ros present that to their audience about as good as anyone out there.
We're fortunate to live in a time where we can see a band like them tour even without an album out. I can only imagine what they have in store with us once their next classic is unearthed and they come back to us for what may be their biggest shows yet.
Find the setlist posted below, along with photos from their performance.
Sigur Ros Setlist:
Set 1:
1.Á
2. Ekki Múkk
3. Samskeyti
4. E-Bow
5. Dauðalagið
6. Glósóli
7. Smáskifa
Set 2:
8. Óveður
9. Starálfur
10. Sæglópur
11. Ný Batterí
12. Vaka
13. Festival
14. Kveikur
15. Fljótavík
16. Popplagið