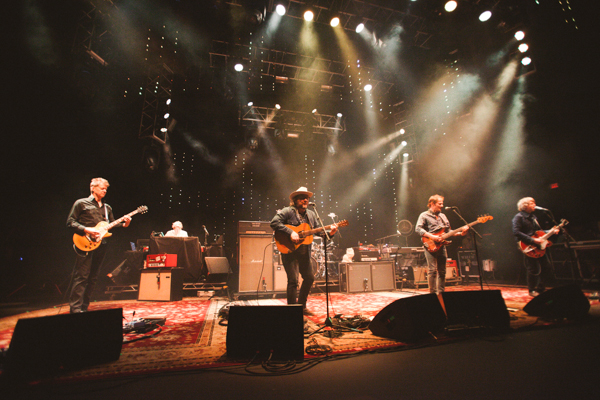 This past Tuesday night brought the return of Wilco to one of the best venues the tristate has to offer, their return to The Capitol Theatre in Port Chester. We were there night one & night three of their masterful performances at The Cap back in 2014 during their 20th anniversary tour and were very excited that they were coming back for a two night run in 2016. Tweedy himself even acknowledged the venue saying "It's great to be back here, this is an amazing place" in the middle of their set.
Kicking off the first night of this two night run, Wilco brought along Nashville's own William Tyler to open the show. We've had the privilege to see Tyler play before in a much smaller and intimate venue, so we were really excited to catch him in a larger venue and he did not disappoint at all.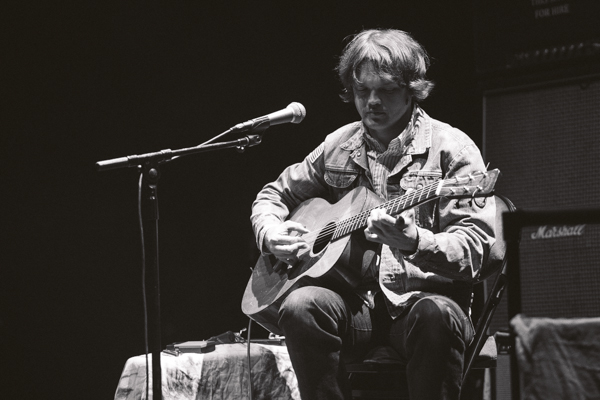 Promptly after Tyler's set was finished, Wilco's roadies came out and started their final prep – running some wires, last minute sound checking, placing set lists, etc. One of my favorite touches to the stage was the cat that was perched up on John Stirratt's amp (a very nice tie in with the album cover of Star Wars). It was glorious.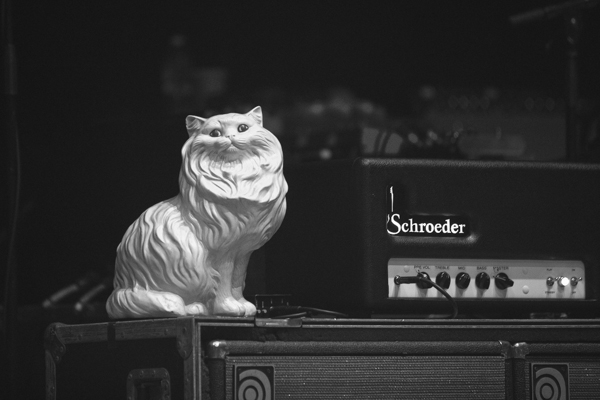 After all that final prep Wilco took to the stage as the opener from their latest release, Star Wars, "EKG" played over the sound system while their beautiful LED light curtains flipped on. They then kicked things off by playing Star Wars in its entirety from start to finish, 10 songs that seemingly flew by in only 35 short minutes. "Thats Star Wars fuckers!" proclaimed Jeff Tweedy after finishing playing the album.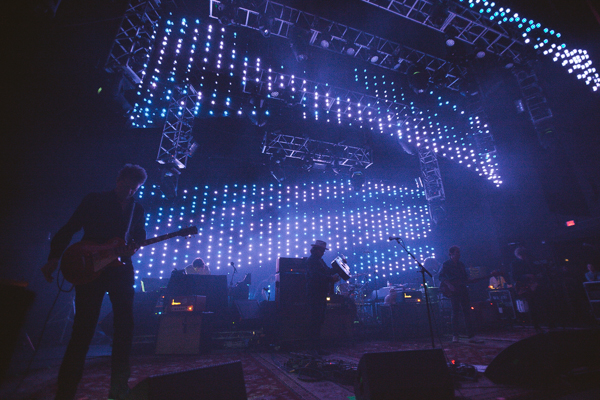 Tweedy and company then jumped into fan favorites "Company in My Back," "Handshake Drugs" and then "Art of Almost." The latter was definitely one of the craziest Wilco moments I've seen – right before Nels Cline's solo at the end of "Art of Almost," he switches guitars and there was a tech issue that wasn't giving him any feedback from the second guitar. While that was happening, the rest of the band kept jamming while waiting for the issue to be sorted out. They kept the jam going and eventually started to finish the song when stars aligned and Cline's guitar started working again. Once Cline realized his guitar was fully working, he proceeded to go to the amp and turn a few knobs WAY up. The solo at the end of the song was the loudest and heaviest I've ever heard it… and it was one of those Wilco moments that I'll never forget. Cline definitely took out some aggression on that solo, and boy was it a good one. Tweedy even joked at the end of the song saying, "Just how we rehearsed it!"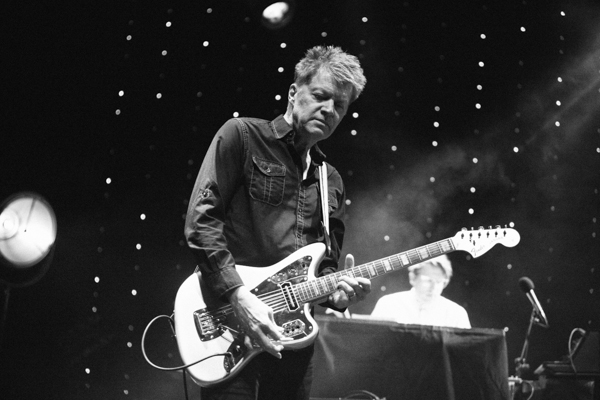 Tweedy's playful banter was running on all cylinders on Tuesday night with tons of quick witted responses and jokes throughout the evening. Before starting "Box Full of Letters" off their debut AM, Tweedy told the crowd that the next song was off said first album and somebody in the crowd shouted out "CASINO QUEEN!" (which is another song off their debut). Without any hesitation Tweedy quickly replied back with "NO. It's not Casino Queen, so please be quiet." He then continued on and admitted that before they got on stage, "I realized I have a tear in my crotch on my jeans and I'm worried I'll have a Lenny Kravitz. I do call my genitalia Kravitz," which gained a lot of laughter from the crowd.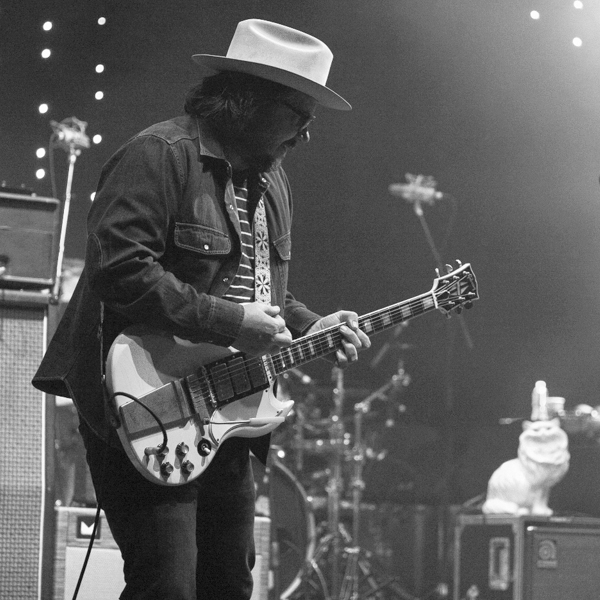 Towards the end of their set is where things got interesting. The ever popular 1–2–3 punch of "Red Eyed and Blue," "I Got You," and "Outtasite (Outta Mind)" ended their first set, then the band said goodnight and walked off stage. The band then returned back to the stage and came back out for two encores. The first encore featured "Spiders (Kidsmoke)" in its most potent form – plugged in and electric. I've heard the band play the song 'unplugged' and acoustic many times now, but hearing the song played 'plugged in' has been something I've been waiting to see for a long time, and it did not disappoint one bit.
The second encore was Wilco acoustic and 'unplugged' set featuring some heavy hitting songs. Crowd favorite and singalong "Misunderstood" kicked things off, followed by the more rare "Its Just That Simple" sung by Stirratt. Tweedy then invited William Tyler back out to the stage and Tyler joined in on playing "Airline to Heaven" with the rest of the band. You could tell Tyler was nervous to play with Wilco, even trembling a little bit as he walked out to the stage and took a seat. Tweedy threw a few jokes out to help ease his nerves which seemed to help, as Tyler performed the song absolutely flawlessly. After the song was over Tyler exchanged hugs with everybody in the band as it was his last night on tour with Wilco, and what a way to end the tour for him.
Find Wilco's setlist posted below, along with a gallery of photos from both William Tyler and Wilco.
Setlist:
1. More…
2. Random Name Generator
3. The Joke Explained
4. You Satellite
5. Taste the Ceiling
6. Pickled Ginger
7. Where Do I Begin
8. Cold Slope
9. King of You
10. Magnetized
11. Company in My Back
12. Handshake Drugs
13. Art of Almost
14. Box Full of Letters
15. Heavy Metal Drummer
16. I'm The Man Who Loves You
17. Dawned on Me
18. Impossible Germany
19. The Late Greats
20. Red Eyed and Blue
21. I Got You (At The End of The Century)
22. Outtasite (Outta mind)
Encore 1:
23. Spiders (Kidsmoke) [electric]
Encore 2 (acoustic set):
24. Misunderstood
25. It's Just That Simple
26. Airline to Heaven [w/ William Tyler]
27. A Shot in the Arm
William Tyler: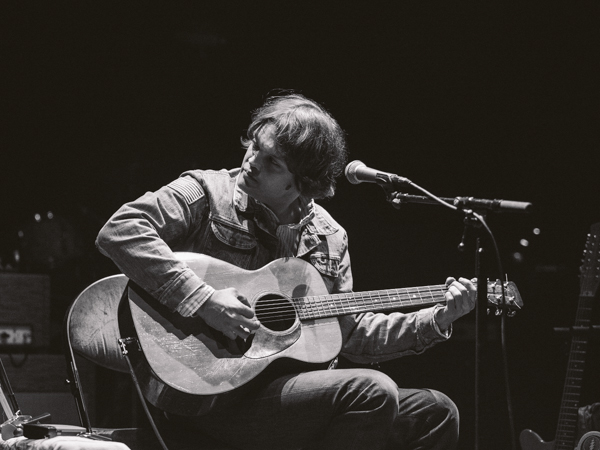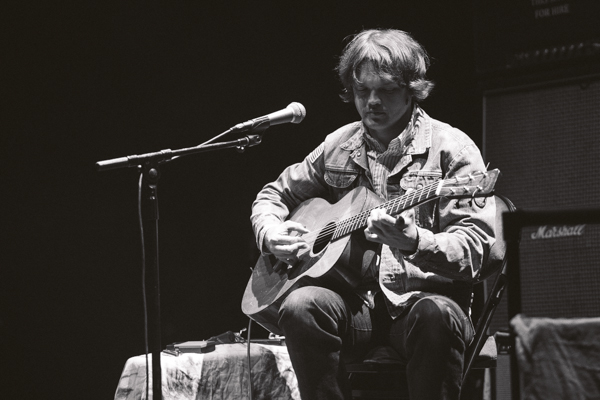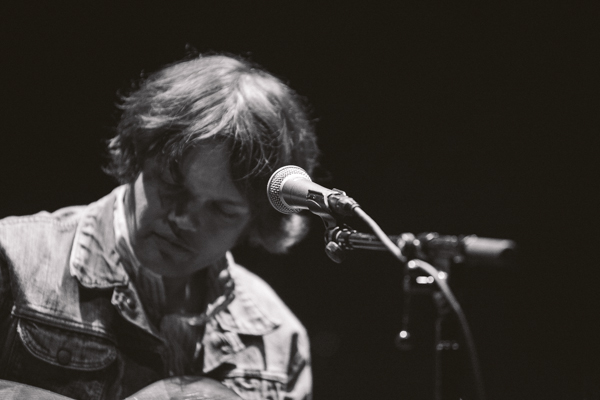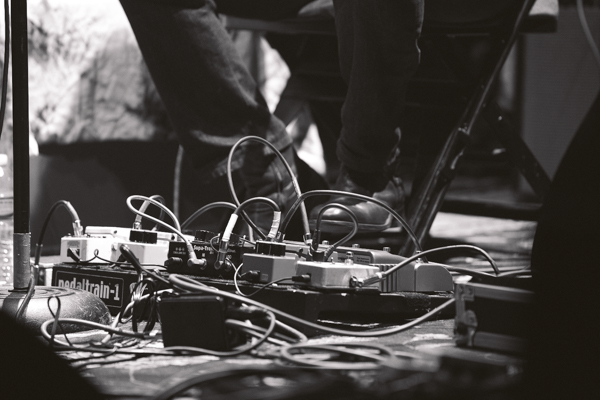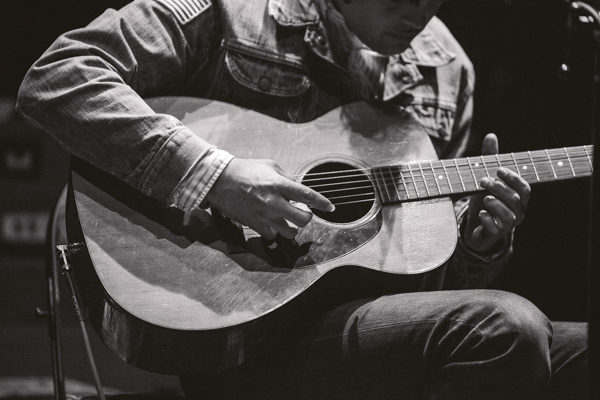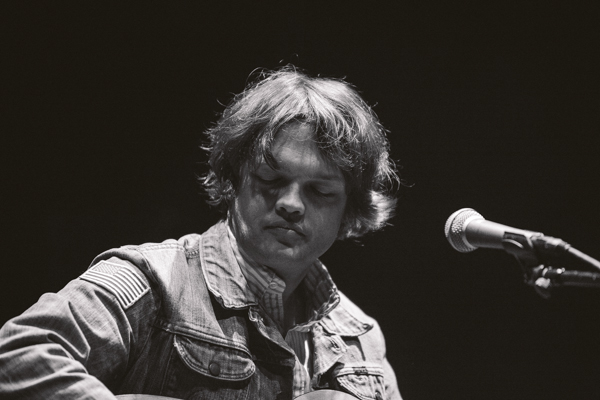 Wilco: