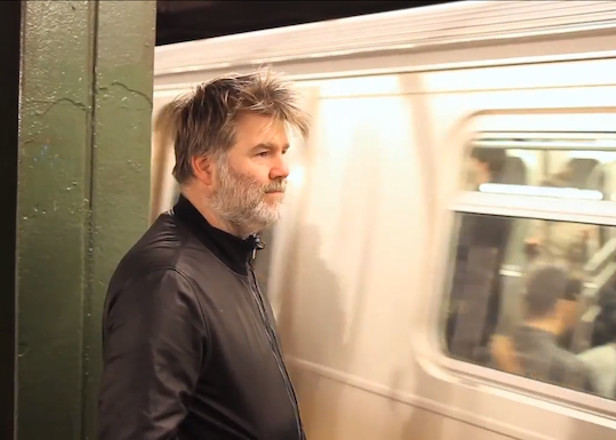 LCD Soundsystem are back and it has hit many of us with a wave of conflicting emotions.
Even before I started this blog, LCD Soundsystem were one of my favorite bands. I forgot how I first found them, but I was so desperate to buy their debut album that I ended up buying a CD copy of it at a local FYE (RIP) at my mall when that was still a socially acceptable thing to do. I was hooked ever since. Some of my best live memories came from their shows. Getting to see them play along with Arcade Fire at Randall's Island in 2007 is still one of the best shows I'll ever see. As was their "final" performance at MSG in 2011, just five years ago.
Deep down we all had a sinking suspicion that they'd return eventually, but I don't think any of us expected it so soon. Last week word spread about their return in the form of a headlining slot at Coachella. Since then, dozens of friends have been messaging me, asking about my opinion on the matter (god help me if Arctic Monkeys ever go through this), as they know how much I love LCD, but also because I was one of the lucky ones to end up at the now infamous MSG performance. I posted my thoughts to social media, but after seeing the personal note that James Murphy posted on the bands site today, I felt inspired to leave something on my own page as well.
Like I said, I always had a sinking suspicion that LCD Soundsystem would eventually come back. Maybe it's because the whole reunion thing has become standard by now, but also, because paying a lot of money to see a final show that doesn't end up being a final show is something that very much my luck. So when I heard that they were officially coming back I was hit with a wave of emotions, mostly just surprised that it was so soon. Putting everything aside, as a fan, of course I was happy to hear they were back. One of my favorite bands was back from the dead. The fact that we are not only going to get to see one of the best live bands of this era back in action again, but that they will be releasing new music, it's an exciting thing. So many friends of mine, and many other fans never got the chance to see them live and now they would have the chance to do so. That's an exciting thing.
But on the flipside, I am left feeeling a bit of confusion. Did they intentionally lie to us this whole time just to make a big festival paycheck? Was this the plan all along? My conflicted state of mind came large in part because I paid way too much for a ticket to the final show last minute on stubhub, and also was suckered enough to buy a final show t-shirt, poster, as well as the vinyl boxset and DVD that came after. Oh, and I paid to see the film in theaters when it had a run as well. I really believed it was their swan song because, well, James Murphy said so. And I believed him. So last week when I hear that they're definitely returning, I felt like I got played. Tricked. Lied to. Sure it was my own choice to buy all those things, but it was under the pretense that this was the final farewell. I used to get praise for my final show shirt, now it may be subject to ridicule. The conflicting thing here is that final show is another one that ranks high as one of favorite shows of all-time (which it still very much is, a nearly 3-hour set full of LCD Soundsystem can't be anything else but one of the best you ever see), but that memory does indeed feel cheapened.
So when I read James Murphy's letter today, breaking the silence about all of this, I'm surprised by how somber of a tone he took. He's always been brilliantly self-aware, and acknowledges that there would be people angry, but he didn't foresee the level of heartbreak that people felt. Which is understandable, there's a distinct difference between anger and sadness. I indeed did put a lot of myself into this band and eventually that final show which I built up to be this monumental occasion in my concert going career, a feeling hammered in by the film and other excesses of the year-long goodbye for sure. And oddly enough he does side with us. He understands. He apologizes for it.
The fact that he is able to confront this issue headfirst on a platform and acknowledge that people feel hurt and not throw a cheap lie or excuse at us, that's something I can respect. No, it doesn't change the fact that the final show is indeed changed for me now, and I am very much hesitant to believing anything that they say about anything "final" ever again. Sure they should have just disappeared for a bit announcing an indefinite hiatus, but I guess that's not as exciting as a final goodbye. I am trying to see past it and just move on looking towards the prospect of new LCD everything.
At the end of the day, I'm left feeling positive because LCD Soundsystem is back, with a brand new album on the horizon and a tour date of shows. We can whine all we want, but at the end of the day, this is unbelievably exciting. When we are dancing along to the new album or at one of these upcoming shows, all of this will be pushed to the past. I no longer care if it was the plan all along, how much they're making at Coachella, I just care that we got our band back.