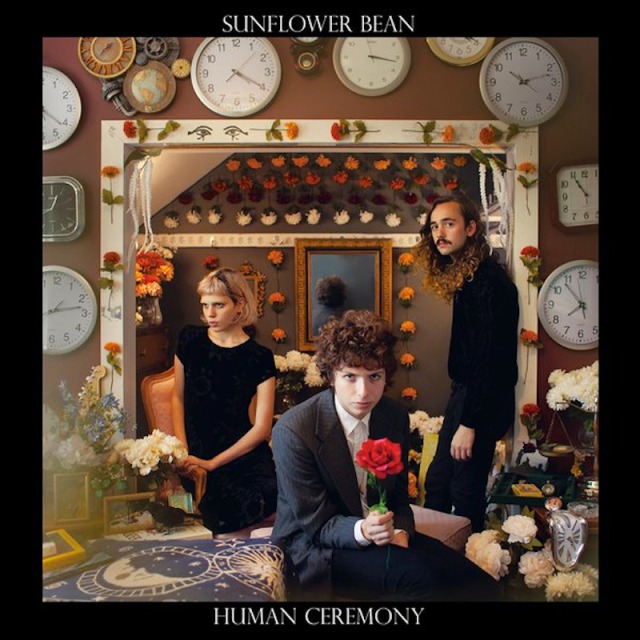 Sunflower Bean rang in the new year playing a show with DIIV, no surprise, as the young New York trio are about as hardworking as they come.
Their work ethic has made the release of their debut album Human Ceremony next month (via Fat Possum) one of the most exciting prospects of this new year. We already got a taste last year through first single "Wall Watcher", and today brings the follow-up single "Easier Said."
This may be Sunflower Bean's most grown up trek yet, channeling a California summer-sound that captures the likes of groups like Haim and dare I say, Fleetwood Mac. It's a lush wonder, indebted to the past, but also looks forward with a sense of hopefulness. They show a calm-sense of restraint and maturity that their more urgent psych-rock dives don't quite have. It's great.
Stream "Easier Said" below and find their upcoming tour dates posted below it.


Sunflower Bean Tour Dates:
2/2/16 Bristol, UK @ Louisiana
2/3/16 Birmingham, UK @ Hare & Hounds
2/6/16 Paris, FR @ Le Pop Up Du Label
2/8/16 Copenhagen, DK @ Ideal Bar
2/9/16 Berlin, GR @ Berghain Kantine
2/10/16 Hamburg, GR @ Molotov Bar
2/12/16 Brussels, BE @ Botanique
2/13/16 Lille, GR @ LA Peniche
2/15/16 Edinburgh, UK @ Sneaky Pete's
2/16/16 Manchester, UK @ Soup Kitchen
2/18/16 London, UK @ The Dome
2/19/16 Brighton, UK @ Bleach
2/25/16 New York, NY @ Bowery Ballroom
2/26/16 Hanover, NH @ Bones Gate Fraternity +
2/27/16 Cambridge, MA @ Middle East Club Upstairs
2/28/16 Montreal, QC @ Quasi Des Brumes
3/1/16 Toronto, ON @ Smiling Buddha
3/2/16 Detroit, MI @ Majestic Café +
3/3/16 Chicago, IL @ Schubas Tavern +
3/4/16 Lakewood, OH @ Mahall's 20 Lanes +
3/5/16 Rochester, NY @ Lovin' Cup +
3/6/16 Philadelphia, PA @ Kung Fu Necktie +
3/10/16 Washington D.C. @ Black Cat *
3/11/16 Durham, NC @ The Pinhook
3/15-3/20/16 Austin, TX @ SXSW 2016
3/24/16 Los Angeles, CA @ The Echo
3/25/16 La Jolla, CA @ Che Café
3/26/16 Santa Cruz, CA @ The Crepe Place
3/27/16 San Francisco, CA @ Brick & Mortar Music Hall
3/29/16 Seattle, WA @ The Vera Project
3/30/16 Vancouver, BC @ The Cobalt
3/31/16 Portland, OR @ Analog Café Lounge
4/1/16 Nampa, ID @ Flying M
4/2/16 Salt Lake City, UT @ Kilby Court
4/3/16 Denver, CO @ Larimer Lounge
4/5/16 Minneapolis, MN @ 7th Street Entry
4/6/16 Madison, WI @ The Frequency
4/7/16 Bloomington, IN @ The Bishop
4/8/16 Columbus, OH @ Rumba Café
4/9/16 Pittsburg, PA @ The Smiling Moose; Upstairs
* w/ Mass Gothic
+ w/ Honduras