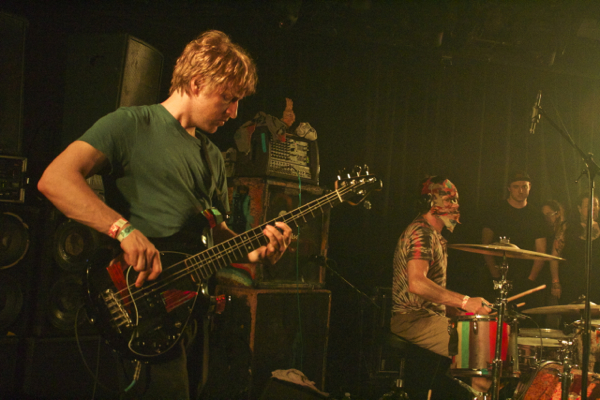 On Saturday May 16, in the first of a crazy three night marathon of shows, I caught a set from the always noisy Providence, Rhode Island duo, Lightning Bolt at Le Poisson Rouge. The LPR performance was the second New York show, with a show at The Wick taking place the night before. Both shows were a part of their tour for their newly released album Fantasy Empire, out now via Thrill Jockey.

My first time catching the insanely powerful duo of drummer and vocalist Brian Chippendale and bassist Brian Gibson was just last fall for the last ever show at Death By Audio. Not only did they get to play at the show, but they were the last band to ever grace the stages of DBA. All the rumors about them being a devastatingly loud and crazy live act still didn't prepare me for the amount of insanity that unfolded that night.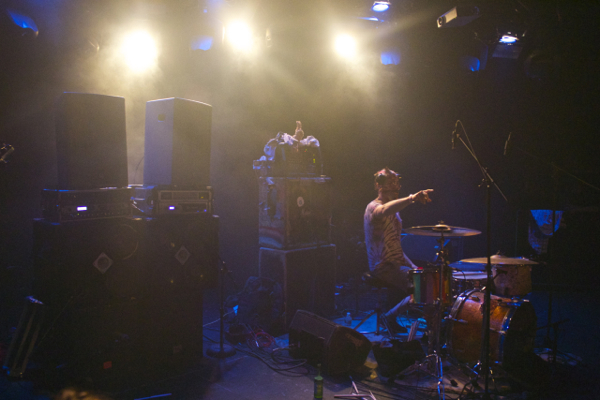 I was a bit more prepared for Lightning Bolt this time around, but it's still amazing to watch the chaos unfold. LPR almost seemed to pretty of a spot for such a wild show, but it served as a perfect place. With such a wide stage, Chippendale was able to invite some of the fans in the front row up, to stand on the stage, so they wouldn't get crushed by the crowd. Things went from 0-100 instantly, with the body heat in the room rising simultaneously with the lightning quick noise that Lightning Bolt released on us.
It was a energetic and wild performance, a total primal experience that fans of both noise music and rock and roll in general should embark on at some point. Just be prepared to mingle a bit, and bring a pair of earplugs. One for you, and one for that crowdsurfing floating above you.