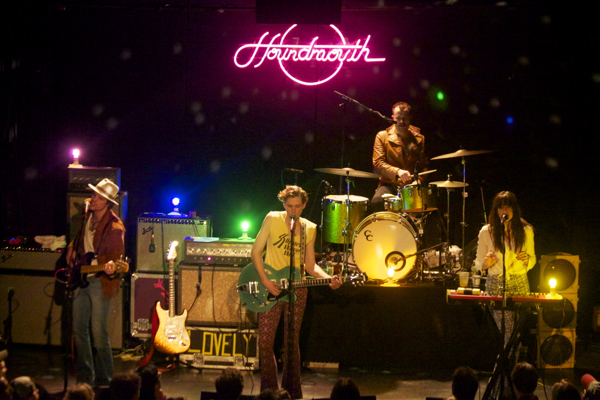 With new album Little Neon Limelight, Houndmouth have continued their winning streak of releasing some rocking tunes that sound good and feel even better. Their sound is a hybrid of rock and roll, along with aspects of alt-country, americana, and bar rock. They're recordings are all fantastic, but it's in the live arena where Houndmouth are meant to be seen and heard.
The first time I saw Houndmouth perform live was at Bowery Ballroom in fall 2012, opening up for Dry The River. That night I was one of those fans who comes from the opener, because I genuinely was a fan of what Houndmouth were doing, and very excited for their future. Here we are nearly three years later and the lovable group from Indiana returned with two sold out shows in a row, at Rough Trade NYC and Bowery Ballroom, respectfully.
I caught their performance at Bowery Ballroom on April 1, and it was packed all the way to the back of the bar and stairs. People weren't just there to check out the show, they were there to party with Houndmouth. Houndmouth had the crowd won over before they even stepped on stage, and they delighted them with a delightful performance that captivated the entire crowd. Fans were vocal when shouting back "A Saturday night kind of pink" during "Sedona" (the first crowd to do it like that the band said) or taking over the chorus of "Hey Rose." This was a crowd that knew their Houndmouth and was proud enough to takeover a song when need be. You just don't see that sort of dedication at most shows.
The hearty 18-song set saw most of the tracks from their two albums played, as well as a wonderful cover of Dion's "Runaround Sue" which saw them joined by Parker Millsap and his band. It was a wonderful performance from the band who have really come a long way in such a short time. I feel lucky to have seen their growth as a band firsthand, and am even more excited to see what else the future brings for them. All their success is well deserved, and certainly well earned.
Find the setlist and photos posted below.

Houndmouth Setlist:
1. Black Gold
2. On the Road
3. Honey Slider
4. 15 Years
5. Comin' Round Again
6. Casino (Bad Things)
7. Sedona
8. Hey Rose
9. Darlin'
10. Come On, Illinois
11. Say It
12. Penitentiary
13. Gasoline
14. By God
15. My Cousin Greg
Encore:
16. For No One
17. Houston Train
18. Runaround Sue (Dion Cover) (with Parker Millsap)