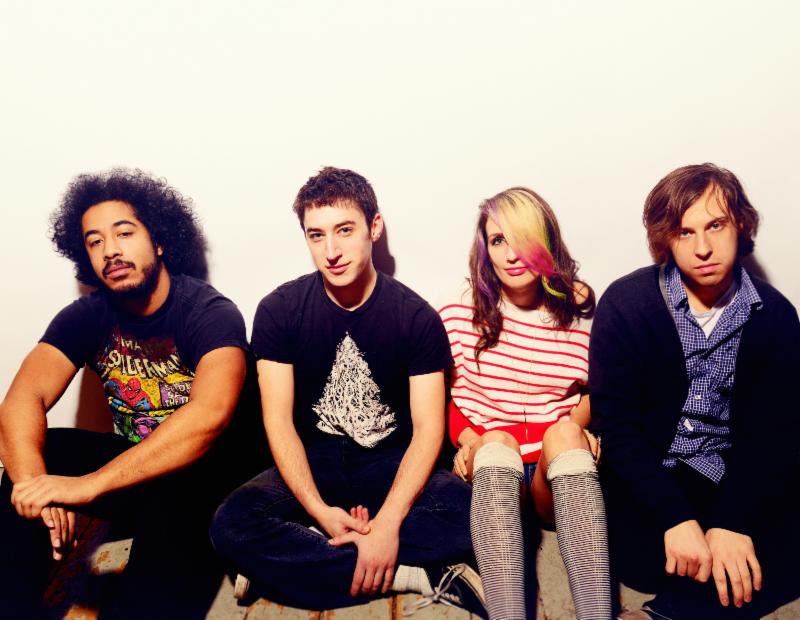 Massachusetts four-piece Speedy Ortiz will release new album Foil Deer on April 21 via Carpark Records.
They previously shared a track called "Raising The Skate" and yesterday they followed that up with a 90's slacker anthem that changes up Speedy Ortiz's formula a bit, with newly infused synths. Still, this is still very much the same Speedy Ortiz, who weave in and out of their melancholic musings with ease.
This track has become even more personal to lead singer Sadie Dupuis, whose father recently passed away. She posted a personal note on the band's facebook page, explaining that this song was his favorite out of all the songs that she ever wrote.
You can find the touching note posted below along with a stream of "The Graduates" as well as "Raising The Skates."


Speedy Ortiz Tour Dates:
4/22/15 ­ Cambridge, MA @ The Sinclair *&
4/24/15 ­ Hamden, CT @ The Space *&
4/25/15 ­ New York, NY @ Bowery Ballroom *&
4/26/15 ­ Philadelphia, PA @ Johnny Brenda's *&
4/28/15 ­ Pittsburgh, PA @ Cattivo *!
4/29/15 ­ Cleveland Heights, OH @ Grog Shop *!
4/30/15 ­ Chicago, IL @ The Empty Bottle *!
5/1/15 ­ Madison, WI @ The Frequency *!
5/2/15 ­ Minneapolis, MN @ 7th St. Entry *!
5/3/15 ­ Iowa City, IA @ Gabe's Oasis *!
5/4/15 ­ Champaign, IL @ Highdive *!
5/6/15 ­ Washington, DC @ Black Cat *!
5/7/15 ­ Richmond, VA @ Strange Matter *
5/8/15 ­ Carrboro, NC @ Cat's Cradle ­ Back Room *
5/9/15 ­ Atlanta, GA @ Shaky Knees Festival
5/11/15 ­ Tampa, FL @ The Crowbar *
5/13/15 ­ New Orleans, LA @ Gasa Gasa *
5/14/15 ­ Houston, TX @ Walter's Downtown $
5/15/15 ­ Austin, TX @ Red 7 $
5/16/15 ­ Dallas, TX @ Club Dada $
5/21/15 ­ Los Angeles, CA @ The Echo $
5/22/15 ­ Santa Ana, CA @ Constellation Room $
5/23/15 ­ Santa Cruz, CA @ The Catalyst Atrium $
5/25/15 ­ Portland, OR @ Mississippi Studios $%
5/26/15 ­ Vancouver, BC @ The Cobalt $
5/27/15 ­ Seattle, WA @ Barboza $
5/29/15 ­ Salt Lake City, UT @ Kilby Court $^
5/30/15 ­ Denver, CO @ Larimer Lounge $^
5/31/15 ­ Kansas City, MO @ The Riot Room $^
6/1/15 ­ Columbia, MO @ Rose Music Hall $^
6/2/15 ­ St. Louis, MO @ Firebird $^
6/4/15 ­ Detroit, MI @ UFO Factory $^
6/5/15 ­ Toronto, ON @ The Legendary Horseshoe Tavern $^
6/6/15 ­ Montreal, QC @ Bar Le "Ritz" P.D.B. $^
7/17/15 ­ Louisville, KY @ Forecastle Festival
* w/ KRILL
&w/ Mitski
! w/ Two Inch Astronaut
$ w/ Alex G
% w/ Broken Water
^ w/ Palehound