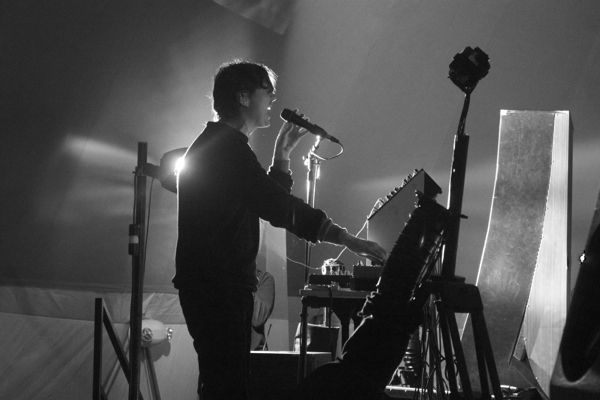 This week Panda Bear released his highly anticipated new record Panda Bear Meets the Grim Reaper (via Domino Records). It's the first great record of 2015, one that I'm keeping on constant rotation. Last Sunday Noah celebrated the release of the record with a special matinee Boiler Room set at MoMa PS1.

The show took place inside MoMA PS1's VW Dome, which kept us nice and warm, while also conveniently providing a round platform for the stunning visuals provided by longtime Panda Bear/Animal Collective collaborator/artist Danny Perez. It would have been a wasted opportunity not to take advantage of the unique shape of the surroundings, and that's just what they did.
Opener "Sequential Circuits" was our first glimpse at the astounding imagery, which was received warmly from the crowd with enthusiastic cheers throughout the VW dome. Paired along with strobe lights, the show became a total sensory overload. However, the imagery was just a part of the performance, which of course, also featured the astounding performer that is Panda Bear. He played most of the material off the LP, as well as "Faces in the Crowd" from the Mr Noah EP, which he released last year.
Panda Bear's vocal-heavy music works wonders live, as tracks bleed into one another in mysterious ways, drawn out differently than they play out on record. It's the type of music that you want to close your eyes and allow you imagination to work its magic, but all you had to do was look up and let Mr. Perez take care of that for you.
"Boys Latin," "Mr Noah," and "Tropic Of Cancer" seem to be early favorites off the album, working well alongside older favorites that Noah resurfaced, such as "You Can Count On Me," "Scheherezade," and "Surfers Hymn," with the latter two coming during the encore.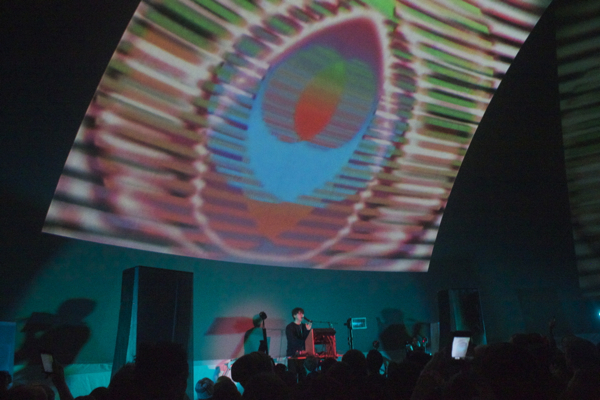 This was a special performance that will be hard for Panda Bear to top in the future, as he won't always have a dome to help him create a total audio/visual experience. But even so, with a set of tunes that are so distinctly his own, we can always count on him to deliver a breathtaking performance that will leave us desperately awaiting his return.
But hey, in the meantime we'll just obsess over Panda Bear Meets the Grim Reaper for the next 11 months until then.
Setlist:
1. Sequential Circuits
2. Crosswords
3. Boys Latin
4. Faces in the Crowd
5. You Can Count On Me
6. Come to Your Senses
7. Tropic of Cancer
8. The Preakness
9. Selfish Gene
Encore:
10. Mr. Noah
11. Scheherezade
12. Surfers Hymn
Panda Bear: