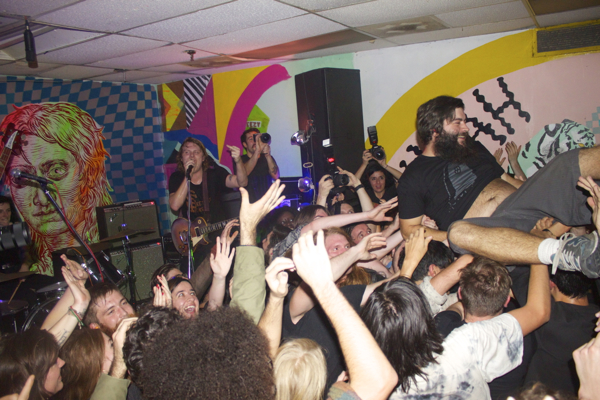 November 14 was a quiet day, until Mikal Cronin tweeted out a photo of him and the rest of The Ty Segall band at Grand Central Station, confirming suspicions that Ty was the secret performer at Death By Audio that night.
I got there an hour before doors and although it was already a decently long line, I was pretty confident with the spot so I wasn't too worried about getting in. Within 10 minutes the line grew tremendously, as word of Ty playing the tiny DBA started to spread. By the time I got in, I heard that the line had reached Kent Ave, likely with many disappointed fans who didn't get in.
The bill featured opening sets from The Numerators and Guantanamo Baywatch who got the crowd warmed up. By the time Ty took the stage, there was a feeling of tension in the air that was just waiting to be unleashed.
Ty started the set with a rather touching thank you to Edan and the rest of DBA, reminiscing about their first show in NYC, which of course, was at DBA (as well as with Thee Oh Sees!) and had maybe 75 people in attendance. He also joked about owing the pedal company some royalties. It was a touching moment, a calm before the storm that broke out with the opening bits of heaving hitter "Wave Goodbye."

From there it was typically glorious set of rock and roll from Ty and the band. It was great to see them at such an intimate setting, as now they're big enough to play (and sell out) spaces like Webster Hall. Ty did some fun riffage on songs like "Wild Thing" and "Louie Louie" as well as "Californication" which he apologized for putting us through.
During "Tell Me What's Inside Your Heart" Ty challenged 100 people to crowdsurf at once, or else they would stop playing. That wasn't quite possible, but it resulted in a giant pool of crowdsurfers colliding into one enough, with Ty eventually joining the action briefly. He then called for us to crowdsurf Edan, which he did, from the front of the stage, all the way to the back. It was pretty incredible.
It was one of the final shows I would get to see at DBA, and one of the best experiences of the year.
Setlist and photos below.
1. Wave Goodbye
2. You're the Doctor
3. Slaughterhouse
4. Tall Man Skinny Lady
5. Wild Thing / Louie Louie
6. Feel
7. Skin
8. Finger / + brief joke "Californication" Cover
9. Standing at the Station
10. Oh Mary
11. Tell Me What's Inside Your Heart
12. The Drag
13. It's Over