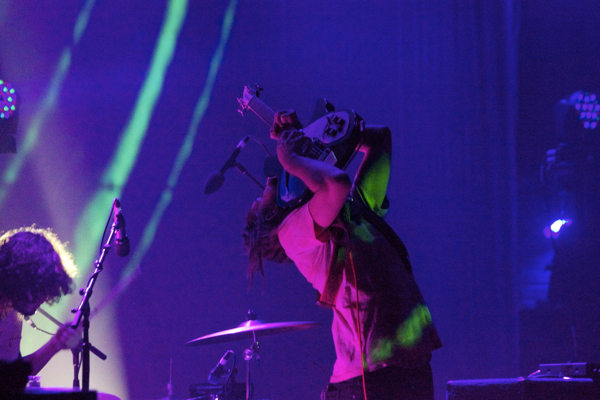 Back in the early days of November (Nov 10 to be exact) Tame Impala returned for the 2nd night in a row for a sold out show at the historic Beacon Theatre. It was a rare concert for me at the venue (I hadn't been there since The National played there in 2011), but if there's anything that will bring me up there, it's the live show from Kevin Parker's Tame Impala.

Strangely enough we weren't allowed to shoot the set from opener Delicate Steve, so I was unable to catch his set (we had to wait outside to shoot Tame Impala). I still have to check out their live show, so I guess that will have to wait until next time.
When the Beacon Theatre shows were announced, I was hit with mixed emotions. Although I knew Tame Impala's stock had risen considerably over the years, it was still hard to comprehend them not only headlining, but selling out The Beacon Theatre for two nights in a row. But Lonerism was an album that practically every loved in 2012, and their reputation as a fantastic live band was more than enough to bring the people in.
I wasn't worried about how they would fill out such a large space, but I was very curious about how it would all go down. Any doubts were immediately squashed during the familiar opening bits of "Be Above It," which worked its magic instantly. They filled out The Beacon with ease, using it's carefully crafted structure to full advantage. The band were covered completely by colorful backdrops that featured psychedelic lines that shapes that moved along with the music, acting as the pulse of the show.
The set was a perfect balance between both Lonerism and Innerspeaker, including fan favorites such as "Elephant," "Why Won't They Talk to Me?," "Alter Ego," and "Apocalypse Dreams." The 1-2 punch of "Feels Like We Only Go Backwards" and "Nothing That Has Happened So Far Has Been Anything We Could Control" was a perfect encore, that sent everyone home in a psychadelic haze that was just unshakeable.
Tame Impala have hit the big time and proved that they are more than deserving. Much bigger venues may be possible in the future, although here's to hoping that they still rock some more intimate clubs along the way.
Setlist and photos from Tame Impala's set, posted below.
Setlist:
1. Be Above It
2. Solitude Is Bliss
3. Why Won't You Make Up Your Mind?
4. It Is Not Meant to Be
5. Why Won't They Talk to Me?
6. Elephant
7. Endors Toi
8. Oscilly
9. Mind Mischief
10. Half Full Glass of Wine
11. New Song
12. Alter Ego
13. Apocalypse Dreams
Encore:
14. Feels Like We Only Go Backwards
15. Nothing That Has Happened So Far Has Been Anything We Could Control