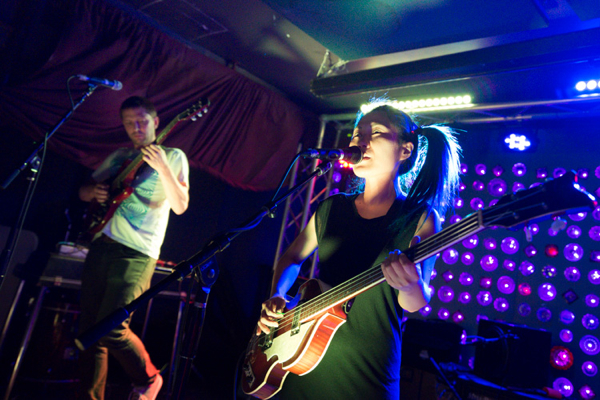 All photos by Andrew St. Clair
It's amazing just how consistent Deerhoof has been over the course of their colorful 20-year career. Somehow, it took me until now to finally catch them live, and let me tell you, it was even more awesome than I expected.

I caught them at Baby's All Right on November 5, the 2nd of a three night run at the Brooklyn venue (they also played one of the final Death By Audio gigs before that). The shows came in support of their latest album La Isla Bonita, released via Polyvinyl. The band's set of experimental art-rock was played expertly, but was also a lot of fun to take in live. They bend the lines of so many areas of rock so well; there really isn't another band quite like Deerhoof, except for Deerhoof. They're silly yet serious, and are able to experiment while delivering some more than accessible guitar riffs. It's really quite amazing.
Their live show was interesting experience that I couldn't recommend more. Everyone needs to take in a live show from them at some point.
Check out some photos from the show taken by Andrew St. Clair.
Setlist:
1. Last Fad
2. Dummy Discards A Heart
3. We Do Parties
4. Paradise Girls
5. Let's Dance The Jet (Mikis Theodorakis cover)
6. Fresh Born
7. Doom
8. Mirror Monster
9. Twin Killers
10. Bad Kids to the Front
11. Oh Bummer
12. Buck and Judy
13. Exit Only
Encore:
14. There's That Grin
15. Come See the Duck