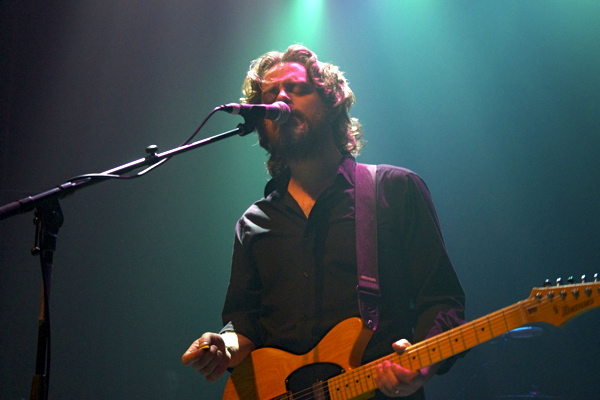 Back when I was in middle school, Myspace was the go-to social network. One of the main components of the site was to publicly share what bands your liked. I have distant memories a lot of my classmates who showcased a delicate passion for music listed Minus The Bear as one of their favorites. This served as my introduction to the band in a way, as back in middle school, I was stuck in a world that only included Green Day, Foo Fighters and Weezer. It could have been a lot worse for sure, but a band like Minus The Bear was a revelation to me. I soon grew into quite the fan of the group, and have seen them experience quite the career.
Here we are, nearly ten years later, and I finally got to catch a Minus The Bear show. Somewhere in between the last decade, I missed every opportunity to catch these guys live. But I finally corrected it, and couldn't be any happier. Two weekends ago they dropped into The Gramercy Theatre (another first for me) on tour in support of their newly released rarities collection Lost Loves. The tour also served as the 10 year anniversary tour of their 2004 EP They Make Beer Commercials Like This.
Minus The Bear kicked the show off by playing The Beer Commercials EP in full, which was pretty damn cool to see. From there they dipped all across their catalog, playing basically a collection of their greatest hits. From "Dr L'Ling" to "Absinthe Party at the Fly Honey Warehouse," to the epic encore performance of "Knights." But the real treat was finally getting to hear "Pachuca Sunrise" live. It was the first song that I ever heard from them, so hearing it hit me with a flood of adolescent memories that quite frankly, I forgot I had.
Finally seeing Minus The Bear live made me realize that they were, and are, important to who I ended up as a music listener. It was a concert that was long overdue, and much appreciated.
Find photos from their performance posted below.
Setlist:
1. Fine + 2 Pts
2. Let's Play Clowns
3. Dog Park
4. I'm Totally Not Down With Rob's Alien
5. Hey! Is That a Ninja Up There?
6. Pony Up!
7. My Time
8. The Lucky Ones
9. The Fix
10. Dr. L'Ling
11. Hold Me Down
12. Diamond Lightning
13. Electric Rainbow
14. Pachuca Sunrise
15. Monkey!!! Knife!!! Fight!!!
16. Absinthe Party at the Fly Honey Warehouse
Encore:
17. Houston, We Have Uh-Oh
18. Knights