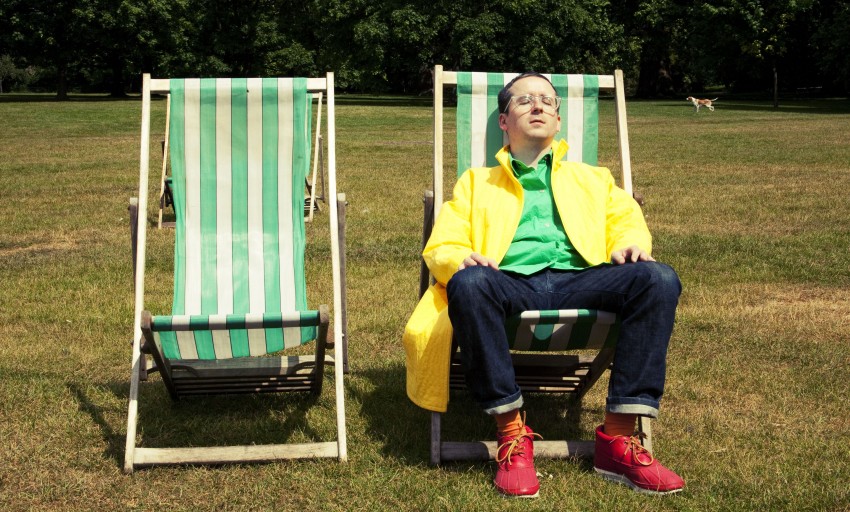 Alexis Taylor is the soft spoken vocalist and frontman of Hot Chip, the London outfit that has made you dance and one point or another. This year he released a new solo album called Await Barbarians a gentle album made for private listening on your headphones (his words).
Late last month I had the pleasuring of speaking to Taylor over the phone a week after seeing him play a show at Rough Trade. We spoke about a variety of things, such as how the show went, his new album, how he balances so many projects, and of course, the new Hot Chip album that is in production.
Find our full conversation posted below.


Hey Alexis, great gig at Rough Trade last week. That was a lot of fun. How did you think it went?
Oh yeah, it was great. I really enjoyed it. I guess its the first time I played outside of Hot Chip in the states, so it was quite interesting. It was nice that people came out. It had a nice atmosphere to it. I played in Los Angeles the day before, and that had gone really well and was a bit rowdier than it was in NY, but yeah..it was good.
Your new solo album Await Barbarians is a much more intimate, and personal look than fans get with Hot Chip or even About Group ? Can you talk about some of your influences on the album?
It's kind of similar in terms of how personal it is to Hot Chip and About Group really, it's just one songwriter on this record as opposed to two or three in Hot Chip, so its a bit more focused. It puts the emphasis on the private, but that's always there in everything I write in every band if I'm honest, it's just the presentation that's slightly different.
Influences on it.. I don't know really. I was trying to make it without any obvious influences, I wasn't really listen closely to other peoples music while I was making it, but I was had been listening to various things I've always loved over the course of years leading into making this. I was listening to a lot of Will Oldem, Prince, Neil Young, all different things. I wasn't really hearing my record as I was making it and then checking it against other peoples records. I mean of course I was hearing music all the time, as I was making it then going to DJ or playing shows with Hot Chip/About Group, but it felt a little bit more like I was basing all the song ideas on some dreams that I would have or some song ideas that would come my way and I would just try and map them out. It's quite an experiment, quite a lot in the studio as well.
I really like the album's artwork. It's a simple image, but a striking one. Can you talk about the meaning behind it>
There's actually no meaning that I've understood, but it's a canvas with some climbing holes mounted in it, and its from a series of canvases with climbing holes mounted in them made by Oliver Payne who is a British artist who now lives in Los Angeles who I know quite well, and whose work I like. Recently outside of Hot Chip I have explored previously made artwork that has nothing to do with my music, and isn't a response to my music; I just choose pieces that work somehow, and I did the same thing with the previous release, Nayim from the Halfway Line. I used artwork by Nick Ralph, which is based on a famous matisse painting. I've been enjoying using pre-existent, but newly made artwork, things that speak to me in the same way that I hope the record will speak to the audience. They don't need to be literally related; there's no way my album is about climbing walls. But at the same time, it's perfectly possible to connect that image to the music if you want to. You know you can read into it, but it's not really meant to be thought about like that. It's just something that I think is beautiful and wanted to put on the cover.
Although you write some ballads with Hot Chip, this record features personal songs that are directly attributed to your name, instead of shared with the concept of a band. Does this extra layer of vulnerability come into play when you're writing? How do you decide what you use with the band and what you take on as your own?
I just try and write songs from some kind of experience or emotional experience, and I don't usually know what exactly the songs are about or what they're meant to be saying. They're about ruminating about different things, so for that reason, I'm never really contemplating "is this more vulnerable than what I do in Hot Chip?" or "Is this less vulnerable or slower, or more intimate?" It just is what it is. I make it because I feel the need to make it and feel the desire to make it, and feel interested in making it. I really try to make something where each song is its own sound well, but then when you put them all together they flow, and they sound like something to me that is pleasing listening on headphones in a room, on a record player, perhaps more for an individual to listen to rather than a group of people to listen to together.
It stood out that there are two versions of the track "Without A Crutch" on the album, with one serving as a bookend. What went into the decision of having both versions on the record?
I made the song early on in making the album, and it felt like the best song I had written so far, I felt really happy with it, it felt like the best song I had written outside of Hot Chip or inside of Hot Chip. It felt like an important song to me. So I had set about making a recording of it, and the first one I made is the one that comes towards the end of the album. I liked it a lot and wanted to reconstruct it with a band feeling about it. So I mocked up what it would be like if a band played it by playing everything myself. Then I took it to a group of people and tried to record it with them and it came out ok, but it felt a bit fast and the natural groove of the song felt lost, so I went back to the second version I made and then I just lived with that one and the first one for a while and felt like they were worth putting on the record together. The one that appears first is maybe the one to go towards radio play, as its sort of the catchier version, but the other one at the end felt like it captured something I couldn't get anywhere else on any other version. I liked the vocal take, I thought it was the most relaxed sounding vocal performance I've done on anything. It had a nice feel to it that was irreplaceable. It made sense to keep it on there. With the album becoming titled Await Barbarians (which is a line within that song), I felt like it was ok to have the song on there twice.
You're a very busy guy between constantly recording with various projects and the vigorous world of touring. How do you balance it all?
(Laughs) Sometimes I balance it really badly, sometimes its all a bit out of joint, and things are way too heavy in one direction, more than another. I don't really know how to not be doing music all the time, maybe its something I fall into doing. Yesterday I played with the Atomic Bomb band doing the music of William Onyeabor, and two days before that I was playing my music in Scotland, and the day before that I was in America playing, and two days before that I was DJ'ing in America. So I feel like its just what I'm driven to do when I have the opportunity, but I don't necessarily have enough time to do it all, but I want to try and do it all.
Does making an album on your own serve as release so you can go into Hot Chip and record with a clean slate of sorts, or do you plan to take some of these influences and bring it with you with Hot Chip and see what happens?
I think its more natural than that, it's not planned in that way. There's something I've written since I finished the solo album, which I've written for Hot Chip and probably will be on the record. In some ways you can hear the influence on what I've been doing on the solo music on that song, it kind of all overlaps. I tend to just take a song wherever it might work. If it doesn't work, then fair enough, I'll do it somewhere else. Or if it works on my own and I like it, then I don't bother trying to resurrect it within Hot Chip. It's just about trying to treat the songs the best you can. There's this notion out there, I don't know who came up with the phrase, but you got to "serve the song," and to me, that's important. You have to do justice to it. Sometimes you don't, and you try anything, and a song is really good, but it just ends up not making it through, and comes out as something you're bored of. You can't understand why you liked it in the first place, but you kind of know that it was probably good when you first started.
Part of the art of recording for me is to capture something while it still feels fresh, and not to overdo it. I find it difficult to imagine anyone else enjoying it, if I don't enjoy it anymore. Where as some people spend six years making an album and must believe in it by the time it comes out. I just couldn't work that way. That's why to some extent that About Group records and more and more even the Hot Chip records tend to be made really quickly. Like About Group records take either one day to record, and a few days to mix, or three days to record and a few more days to mix. Even with Hot Chip, it's quite similar. The mixing can be the longest part and the recording and writing can be fairly quick
With that said, you're currently working with the guys on a new Hot Chip record, correct?

Yeah, we are.
How's that going? Can you tell us a little about it?

It's going good. We're going to be back in the studio quite soon to carry on with it, we are just sort of amassing material, and writing things, some of which get finished very quickly and some which we leave a bit open ended for a while and come back to them when we are next all back together. I suppose we're making it in a spread out way across the year. We're coming back to it pretty soon, and hope to get a sense of what is pretty soon. It's sounding good!