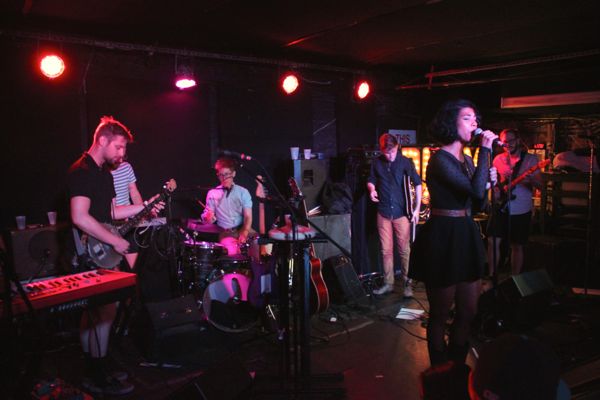 Phox are a band out of Wisconsin, fast on the rise to stardom. Based on what I saw last night, Phox are the real deal, the sort of band that is destined for larger stages than the tiny stage that is the intimate Mercury Lounge. It was fitting that Trails and Ways (who are popular around these parts) opened the show, as they are another band who deserve your full attention.
Trails and Ways have been touring the country with Phox for the last month or so, making it a pitch perfect 1-2 combo. I caught Trails and Ways for the first time at Pianos last summer, and it was a good show. Even though it was just a year in between, the band that played last night at Mercury seemed much improved and tighter. Based on the new songs that I heard, their debut album is almost on the way, and is sounding solid. The new material had a very chill almost 80s lounge vibe with plenty of funk elements involved. It was a nice combination with the bands previous songs, "Mtn Tune" and "Como Te Vas." Each of their four members took over lead vocals at some point, a refreshing aspect that proves that this their band is truly a collaborative effort.
I enjoyed my first listen of Phox's (self-titled) debut album. I liked it, but totally underestimated its power. As I listened more and more, it became more apparent that this was an album that benefited from careful repeat listens. Which each play, the more that their songs would jumped out on me. This concept was even more true tonight, as the songs sounded even better than they do in recorded form. It helps to see the band on stage, working their magic, kicking these songs into gear right in front of your eyes. From the moment they walked onto the stage to the tune of "99 Problems," I knew the show was going to be a good one.
When you see Phox, you'll learn right away how easy it is to fall for singer/frontwoman Monica Martin. Not only does she have an delightfully impressive voice, but she has a gravitating bubbly personality that was heightened to its full effect with the help of alcohol. The band had plenty of fun on stage, eager to crack jokes in between songs at any moment. When it came time to get to business, they were all business. From the heartbreaking effect of "Satyr and the Faun" to the captivating magic of the larger than life single "Slow Motion", Phox was here to impress. Just when I thought the night couldn't get better, the band invited friend (and actor) John Cameron Mitchell (David Pressler-Goings on Girls) to do a lovely duet cover of Cy Coleman's "Why Try To Change Me Now." It was Mitchell who stole the show, holding his own and then some with Martin. It was an unexpected surprise, in a night defined by them.
I'm happy to have caught Phox at Mercury Lounge, because the bands trajectory is up, up, up. The venues will only get larger once they find the larger audience that they deserve. Trust me on this, and go see Phox, immediately.
Photos and setlist, posted below:
Setlist: