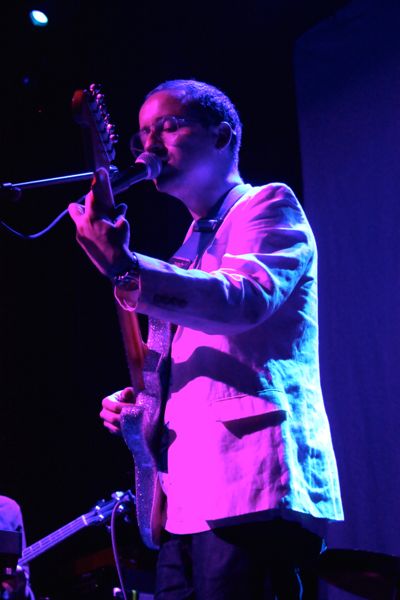 Back in May I caught an intimate performance from Hot Chip's Alexis Taylor at The Manhattan Inn, a preview of his now recently released new album Await Barbarians. The album see's a different version of Taylor at play, giving his own take on country inspired songs. At root, the electronic work that Taylor does with Hot Chip is the basis for the songs, giving him a fresh take on the genre, not quite your father's country music.
On Monday night Taylor returned to New York to play a show at Rough Trade NYC. Last time he had Hot Chip drummer Sarah Jones and pedal steel guitarist Jonny Lam with him as his band. This time around there was no Jones to be found, but fellow Hot Chip member (and LCD Soundsystem member) Al Doyle helped Taylor out (Lam returned as well).
Just like last time the show featured a gentle and subdued version of Taylor, who performed many tracks off his album, as well as a few choice Hot Chip songs that included "Made In The Dark", "Now There Is Nothing" and "Look At Where We Are" that got re-worked to fit the country vibe at hand. He also included some country covers, such as Dan Bodan's "Under A Cancer Sky." Although it was mostly a mellow evening, we saw a flash of Hot Chip when Taylor performed his track "Hot Squash" which came off his Nayim From The Halfway Line EP.
It was great to catch Taylor in such a different setting performing these songs, which are clearly personal to him. When an artist puts himself out there in such a way, the audience can't help but be swept away in the process.

Setlist: