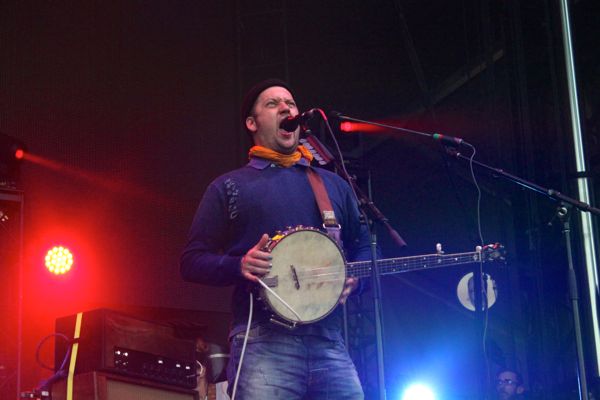 It's been forever since Modest Mouse's last proper studio album (try since 2007's We Were Dead Before the Ship Even Sank), but the band has stayed busy during this extended break in-between albums by staying on tour. Even without any new material to tour around, the band just does fine (as I saw at Governors Ball 2012). With a heavy back catalogue of material, there's always a solid variation of songs that the band can play on any given night.
Frontman Isaac Brock is always a force to reckon with on stage, full of intensity and energy that just jumps out at you. This applies even when he's rocking his banjo – there's a fierceness about him in his vocal delivery that is impossible to shake. Believe it or not, the band's commercial breakthrough Good News For People Who Love Bad News came out 10 years ago. With that in mind, it wasn't a surprise that most of the night's set came off that album. No "Float On", but rather more sublime offerings such as "Ocean Breathes Salty." There was a palpable tension in the air as the band ripped through a thunderous performance of "Tiny Cities Mades Of Ashes", which is my favorite song of theirs. The band had the crowd up in arms, ready to explode as the song built towards its eventual release. By the time they ripped through "Dashboard", the place was nearly ready to explode.
One can only hope that we get a new album sooner rather than later, but as long as they keep giving us live shows as great as this in the meantime, who can complain?