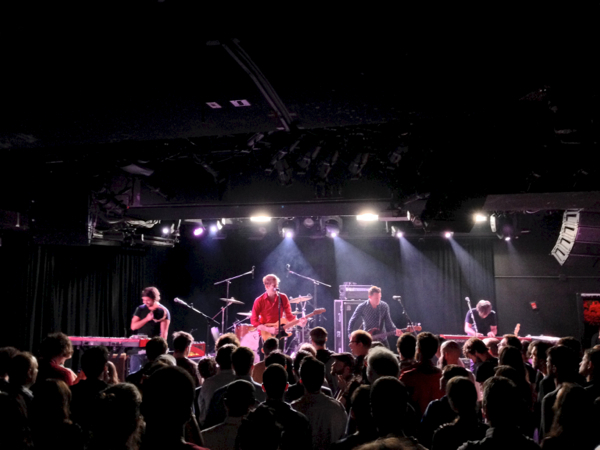 On June 9 Spoon played a intimate show at Le Poisson Rogue that and followed up their set at Governors Ball only a few days before. The show was hosted by NPR Music and was actually an early matinee show that took place at 2 p.m and was RSVP only – which understandably sold out immediately. The time preventing the room from being as packed as it should of been, making it all the more intimate.
The 11-song set was more or less a trimmed version of their Gov Ball set, with the addition of Girls Can Tell's "Anything You Want." along with the premiere performance of new single "Rent I Pay" which was then broadcasted online by NPR (the video is posted below). It's off the band's upcoming new album They Want My Soul, which will come out on August 5 via Loma Vista.
The performance might have been even sharper than Governors Ball, especially with the premiere of "Rent I Pay", which sounded terrific along with other new songs "Rainy Taxi" and "Knock Knock Knock." The addition of Alex Fischel does a lot for them live, as he brings a tremendous amount of energy and can seemingly do it all, whether its rock out on the guitar, add some vocals, or hammer out the keys.
Find the "Rent I Pay" video below, along with the show's setlist.

Rent I Pay (Live At LPR):
Setlist:
1. Rent I Pay
2. Small Stakes
3. Don't Make Me a Target
4. Anything You Want
5. Knock Knock Knock
6. You Got Yr. Cherry Bomb
7. The Ghost of You Lingers
8. I Turn My Camera On
9. Got Nuffin
10. The Underdog
11. Rainy Taxi