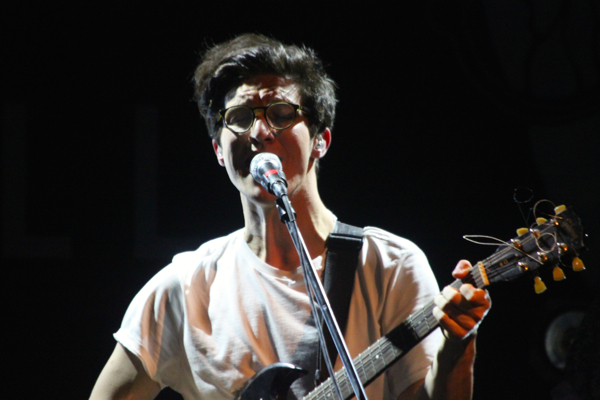 Dan Croll made his return to New York City on Thursday night, playing a sold out show at Bowery Ballroom. A impressive feat, considering the last time he was here he played at Mercury Lounge during CMJ.
Croll's return was in support of the release of his debut album Sweet Disarray. The Bowery stage is an obvious bump up from the intimate one at Mercury, but Croll and his band managed just as well. He doesn't lack any confidence, demonstrating himself in a way that would make you believe that he's a veteran whose been doing this for many years.
While the show didn't pack the same oomph as the Mercury one (for me anyway), Croll still managed to delight with some of his poppier numbers ("Compliment Your Soul, "In/Out", "Home", and "Only Ghost.").
I haven't met Croll personally, but he seems like one of the nicest guys you could find in the business. His friendly stage banter certainly made it seem so, and then seeing him take the phone of a fan videotaping his performance to go on and film his bandmates on stage (watch video here) confirmed that he is a very down to earth guy. This is something that may go overlooked by some, but acts like this stand out to me.
The thumping "From Nowhere" kicked off a 2-song encore that was closed out with Croll's lovely personal track "Sweet Disarray."
Croll has already established himself a solid fanbase one that seems to be growing by the minute. I have no doubt that it will only continue over time, and I have no problem with that. He deserves it.