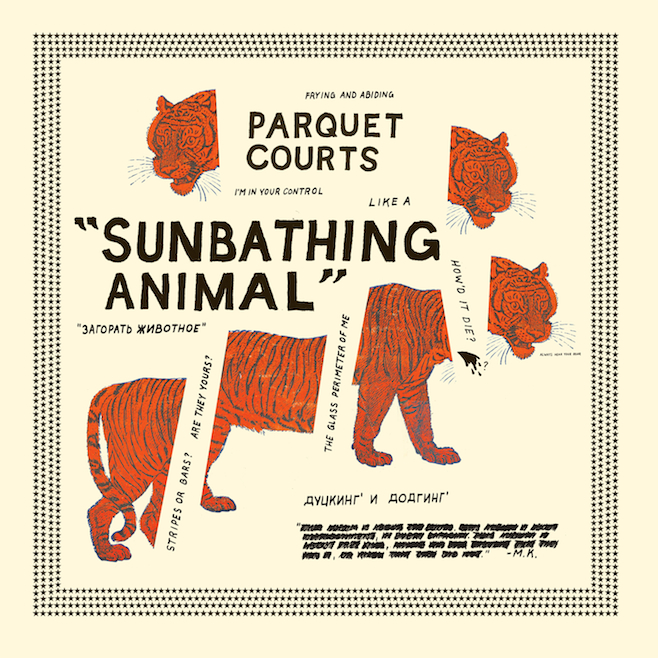 Parquet Courts have shared the details of their new album. It's called Sunbathing Animal and out June 3 via What's Your Rupture?/Mom + Pop.
They've shared the first single and title track, a ball of energy that comes right at your bursting hard out of the gate. I can already imagine myself moshing along to this in the crowd at Brooklyn's Sugarhill Supper Club this summer. Tickets for that show are still on sale. Get them while you can.
Stream "Sunbathing Animal" below. Catch the album tracklist and their 2014 tour dates below that.

Sunbathing Animal:
1. Bodies
2. Black and White
3. Dear Ramona
4. What Color Is Blood
5. Vienna II
6. Always Back In Town
7. She's Rollin
8. Sunbathing Animal
9. Up All Night
10. Instant Disassembly
11. Duckin And Dodgin
12. Raw Milk
13. Into The Garden
Tour Dates:
Thu. May 22 – Calgary, AB @ Commonwealth Bar
Fri. May 23 – Portland, OR @ Doug Fir w/ Naomi Punk
Sat. May 24 – Vancouver, BC @ Biltmore Cabaret w/ Naomi Punk
Sun. May 25 – George, WA @ Sasquatch Music Festival
Tue. May 27 – San Francisco, CA @ Independent w/ CCR Headcleaner
Wed. May 28 – Los Angeles, CA @ Roxy
Thu. May 29 – Austin, TX @ Red 7 w/ Radioactivity
Mon. June 2 – Houston, TX @ Fitzgerald's w/ Radioactivity
Tue. June 3 – Dallas, TX @ Club Dada w/ Swearin'
Wed. June 4 – Memphis, TN @ The Hi-Tone w/ Protomartyr, True Sons of Thunder
Fri. June 6 – Columbus, OH @ Double Happiness w/ Protomartyr
Sat. June 7 – Detroit, MI @ PJ's Lager House w/ Protomartyr, Tyvek
Sun. June 8 – Toronto, ON @ Horseshoe Tavern w/ Protomartyr, Tyvek
Mon. June 9 – Montreal, QC @ Il Motore w/ Protomartyr, Tyvek
Tue. June 10 – Boston, MA @ TT the Bears w/ Protomartyr
Wed. June 11 – Brooklyn, NY @ Sugarhill Supper Club w/ Protomartyr, Future Punx, Xerox
Fri. June 21 – Glasgow, UK @ SWG3
Sat. June 22 – Liverpool, UK @ Kazimier
Sun. June 23 – Birmingham, UK @ Birmingham Institute
Tue. June 25 – London, UK @ ULU
Wed. June 26 – Oxford, UK @ Oxford Academy 2
Sun. June 29 – Marmande, FR @ Garorock
Sun. July 6 – Rotselaar, BE @ Rock Werchter
Mon. July 7 – Groningen, NE @ Vera Project
Tue. July 8 – Paris, FR @ Le Divan Du Monde
Wed. July 9 – La Rochelle, FR @ La Sirene Club
Thu. July 10 – Bilbao, SP @ Bilbao BBK
Fri. July 11 – Lisbon, PO @ Alive Festival
Sat. July 12 – Russelheim, DE @ Phono Pop
Wed. July 16 – Berlin, DE @ Cassiopaia
Thu. July 17 – Grafenhainichen, DE @ Melt
Fri. July 18 – Dublin, IE @ Longitude Festival
Sun. July 20 – Suffolk, UK @ Latitude Festival
Fri. July 25 – Niigata, JP @ Naeba Ski Resort (Fuji Rock Festival)
Sat. Aug. 2 – Chicago, IL @ Lollapalooza
Sun. Aug. 3 – Happy Valley, OR @ Pickathon