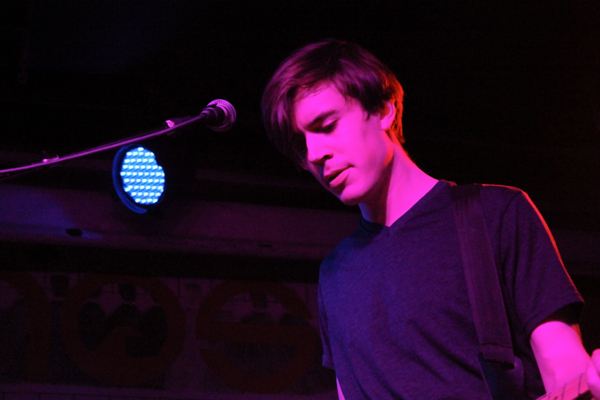 Yellow Ostrich have a new album called Cosmos that is coming out February 25 via Barsuk. Last night they played a private invite-only show at Pianos, put on by BrooklynVegan, that served as a warm-up for their upcoming tour.
The show was an opportunity for them to test out the new songs from the album. The band made the most of it, playing the new album from front to back.
I've been following the work of Yellow Ostrich's frontman Alex Schaaf for a while now, pretty much since the beginning of the site, before he even started Yellow Ostich. It's been amazing to see the the growth of the band, as well as him as an artist. When I first saw him perform, it was in 2010 during CMJ. La Blogotheque was there and filmed the show.
At the time the band consisted of only just Alex and drummer Michael Tapper. Since then they have added Jared Van Fleet and Zach Rose to the band. The expansion makes sense as Yellow Ostrich's sound has grown considerably. The songs off Cosmos sound big and widescreen, the sort of stuff that is grand and sweeping. Lead single "Shades" was a monster live, one of the many tracks that wowed me throughout the night.
From what I heard last night, Yellow Ostrich have a great record in store for us, and the band has got the live performance down to a tee. They will return to NYC for a show at Bowery Ballroom on April 4, and they will also be playing during SXSW. Don't miss your chance to see them.
Find some photos from the performance last night below.