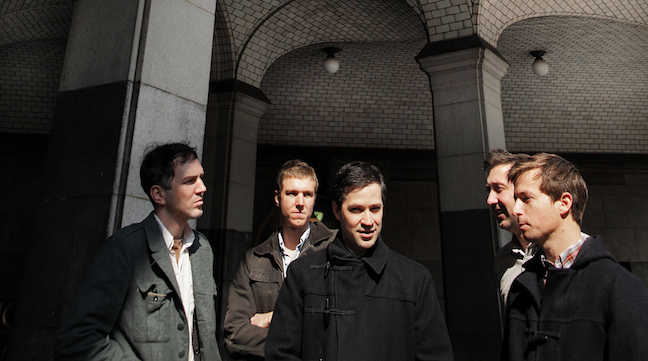 If there was any day for one of my favorite bands, The Walkmen, to announce an "extreme hiatus", Black Friday is certainly an appropriately titled day to do so. In an interview with the Washington Post, the band's Peter Bauer told them that the after their upcoming shows in Washington/Philadelphia (tomorrow/next week) that they will be going on an "extreme hiatus."
When asked if they still plan to at least play live shows, here's how Bauer responded:
We have no future plans whatsoever. I'd call it a pretty extreme hiatus. We really just have no idea. I don't think any of us wanted to write another Walkmen record. Maybe that will change down the line, maybe it won't, maybe we'll play shows. I think it's weird to make a hubbub about something if there's nothing to really make a hubbub about. At the same time, I don't think we've been a gang properly for a long time, so there's not much to break up, I guess.
It seems like this has been on its way for some time, as that last part sounds like they've been growing apart for some time now. Most of them have been working on their own solo records, including Bauer. Frontman Hamilton Leithauser will release his solo debut album in the spring. Walter Martin is also working on his solo album.
It doesn't seem like it's the total end, as some of the band will continue to play together. Drummer Matt Barrick has been playing live shows with Bauer, and Paul Maroon is on Leithauser's record. Leithauser also mixed a song on Bauer's album. So I guess there is hope that these guys will one day come back together.
We need them to. This world doesn't need less quality rock bands, it needs more. The Walkmen are as consistent as they come. Each of their albums has a specific and special meaning to me, a timeline for where I was in my life. They were professional, never did anything to draw them any bad press, always said the right things. They were the good guys, and it would be a damn shame to see them gone.
With that said, it is of course ultimately their decision. Although it pains me to think that I may have seen them for the last time this summer without realizing it, I'm glad I was there. And when you read quotes like this from Bauer reasoning the hiatus, it's hard not to accept that they've had an incredible run.
It's been almost 14 years now. I think that's enough, you know?
Hopefully I will be able to see these guys perform again someday. They're too good of a band not too. I think a lot of people took them for granted, and hopefully if they come back again, people will realize what they had missed.
Enjoy the song that started it all for me many years ago: