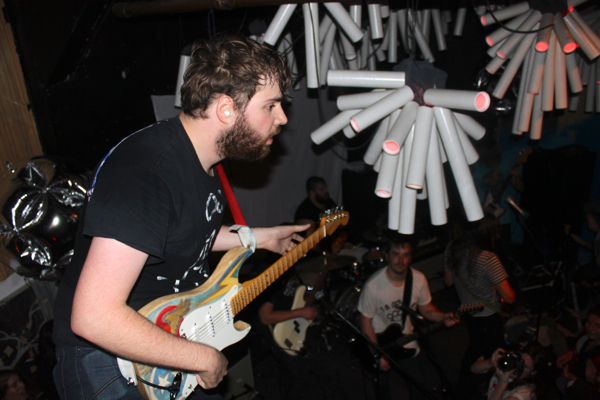 By happenstance I stumbled into Diarrhea Planet's set at Made In America this summer and I've been sold ever since. Their lively rapturous energy easily takes over a room when they play, and that's exactly what they did on Saturday night at Glasslands in Brooklyn.
Diarrhea Planet are a 6-piece, garage rock band, from Nashville, Tennesse. With a stagger 4 guitarists, they know a thing or two about rocking out strong. They had the tiny Glasslands filled to the very brim with everyone on the floor moshing into one another, or propelling each other into the land of crowd surfers. There was plenty of sweat, and possibly blood, on the floor by the time that they were done. They played plenty off cuts off of this year's album, I'm Rich Beyond Your Wildest Dreams. Including standouts like "Kids" and "Seperation." Stream the latter track below.
[soundcloud url="https://api.soundcloud.com/tracks/93249729″ width="100%" height="166″ iframe="true" /]
If you're looking for a good old fashioned rock and roll show with plenty of garage rock antics, go check out Diarrhea Planet. You won't be disappointed.
They said they will be back in NYC sometime in December. I'll just have to check it out. Find some more photos from their set below.