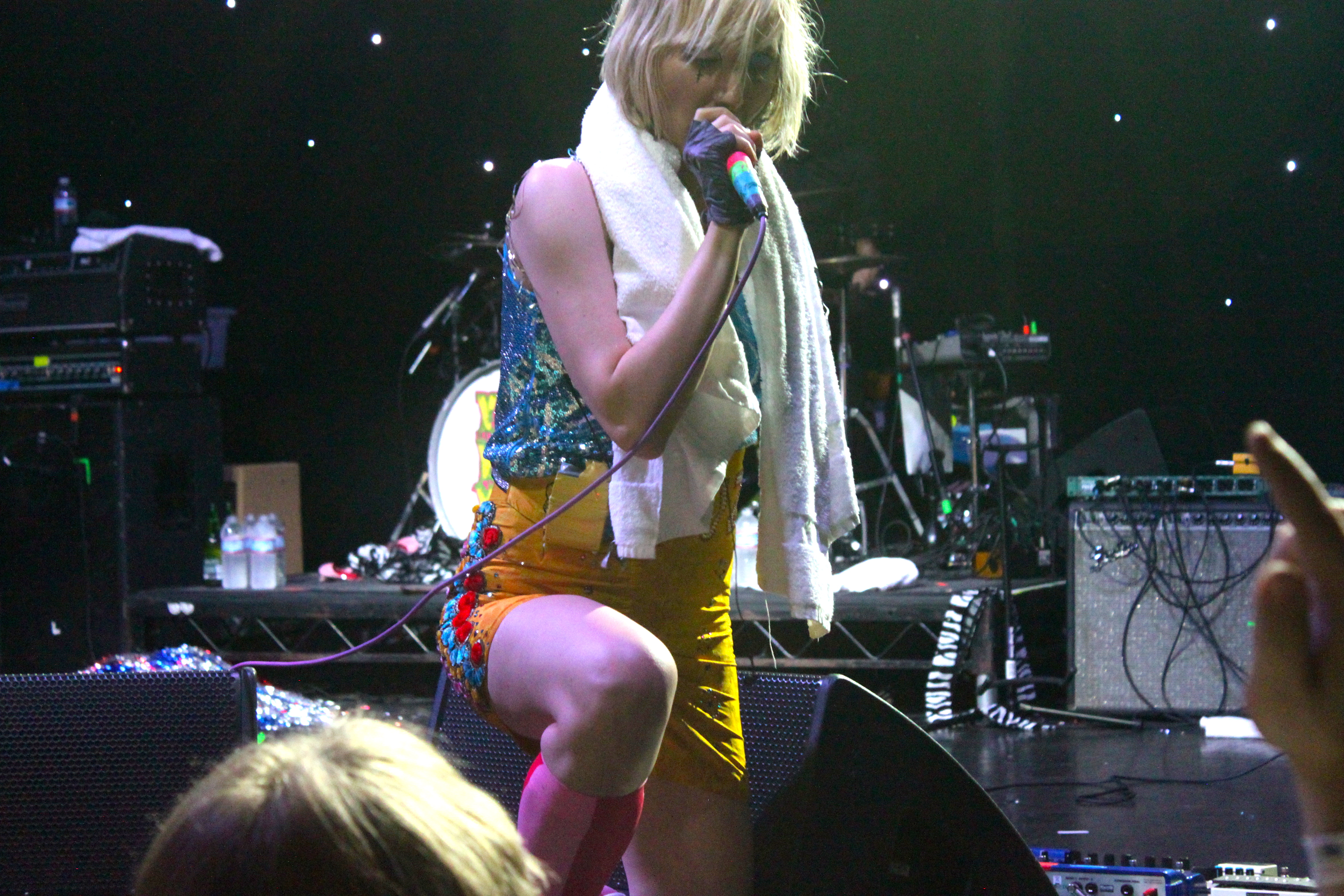 Yeah Yeah Yeahs show at Webster Hall was everything that a rock show should be for a band of their stature. They packed in the venue and made it seem far too small for a band of their epic caliber. The mid-sized venue was a perfect choice to host an intimate (for them) night of celebration for the release of their brand new album Mosquito. The night was more like a homecoming celebration of the New York City band's incredible career, a full fledged salute to their fans who have watched them grow to incredible lengths.
Wasting no time, the trio (plus touring member David Pajo) eagerly jumped into material from Mosquito starting with the title track, which merged beautifully into an intense version of "Gold Lion" that was awe-inspiring. It was at this moment that I realized the scope of their performance. Seeing a band of their magnitude at Webster Hall was truly a treat, and you could tell from the atmosphere that both the crowd and the band realized this too, and were ready to capitalize together.
New songs also included the New Orleans spice of "Sacrilege", "Under The Earth", "Despair" and the first time premieres of "Slave" and "Wedding Song", which Karen dedicated to her husband. These songs came to life a bit more than they have so far for me on record, which is a showing of their capabilities as live musicians.
The heart of their show was reliance of stylings from their past. The post-punk fierceness of first generation tracks such as "Black Tongue", "Miles Away", and the encore-ready "Maps" & "Date With The Night" was almost too much to handle. Then you had bold performances of "Cheated Hearts" and "Turn Into", which is one of their best songs in my humble opinion. Finally, you have the dance-ready anthems in "Zero" and "Heads Will Roll" which hit the crowd like electric waves, far more amplifying to me than anything that EDM tries to pump out.
Karen O is larger than life on stage, giving her all to create what is arguably the most captivating front-woman persona in modern rock & roll. Nick Zinner is zoned in and focused, but creates an immense amount of noise in his wall of amps that creates the core structure of the band filled in by the rhythmic pulse that is Brian Chase.
The Yeah Yeah Yeahs give their all live and the fans are willing to give it all right back. It was an all-night celebration that was not to be missed. It certainly won't be forgotten. I doubt many shows this year will be able to truly stand shoulder to should with this one.

Xray Eyeballs opened the show and gave a gritty performance of dark post-punk with lots of reverb.
Find a gallery of photos from the performance posted below.
[nggallery id=172]