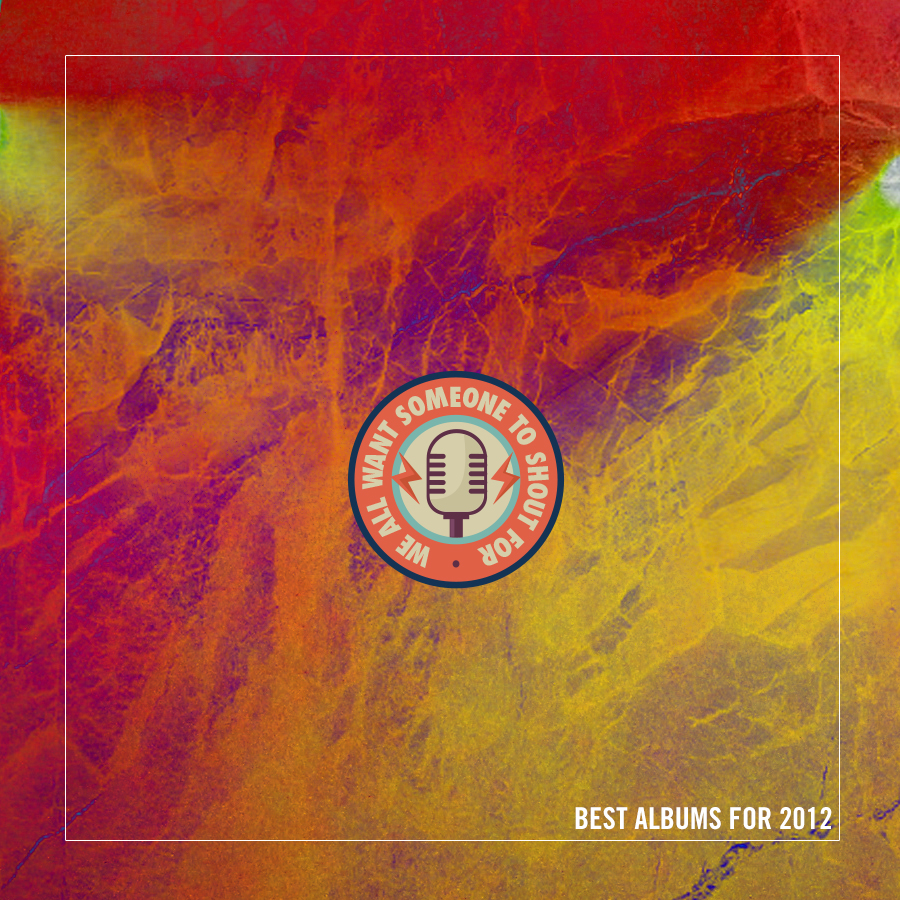 Thanks To Camilo for this great artwork.
Looking back at 2012, there were plenty of albums that I loved. Was it the best year of music in recent memory? Maybe not, but it was a damn good year in its own right. There is a lot that we may look back on and remember well into the rest of the decade.
This year I listed my Top 40 albums, as well as a few honorable mentions that were as close to making my list as they come. I didn't get to listen to everything that I wanted to. As the only writer, it's tough to balance listening to everything, and listening to everything well. That is something I hope to become better at this year.
Ready or not, here are my best albums of 2012:
Honorable Mentions:

Flying Lotus – Until The Quiet Comes


Purity Ring – Shrines

Sleigh Bells – Reign Of Terror
The Soft Pack – Strapped
Divine Fits – A Thing Called Divine Fits

Cemeteries – The Wilderness
Chairlift – Something

Lemonade – Diver

Father John Misty – Fear Fun

METZ – METZ
Mac Demarco – 2


The Vaccines – Come Of Age
We All Want Someone To Shout For's Best Albums Of 2012:

40. Jens Lekman – I Know What Love Isn't

39. Two Door Cinema Club – Beacon

38. Allah-Las – Allah-Las
37. Merchandise – Children Of Desire

36. Sigur Ros – Valtari

35. The Shins – Port Of Morrow


34. Memoryhouse – The Slideshow Effect


33. Murals – On A Passing Cloud


32. Bloc Party – Four


31. The Babies – Our House On The Hill


30. The Tallest Man On Earth – There's No Leaving Now


29. Cat Power – Sun


28. Alabama Shakes – Boys & Girls


27. DIIV – Oshin

26. Grimes – Visions


25. Tennis – Young & Old


24. Hot Chip – In Our Heads

23. Passion Pit – Gossamer


22. Jack White – Blunderbuss


21. Kendrick Lamar – good kid, m.A.A.d city


20. Fiona Apple – The Idler Wheel is wiser than the…
"Every Single Night" sets the tone on this personal record that is a powerful listen in ways that only Fiona is capable of. Glad to see she is back, especially when she's in top form.


19. Animal Collective – Centipede Hz
No it wasn't MPP, but it is unfair to hold that against everyones favorite boys of yesteryear. Centipede Hz is connected as one whole due to its radio transmission theme, creating a collective thread that makes it all feel whole.


18. Crystal Castles – Crystal Castles III
Crystal Castles find ways to stay true to themselves, while also adding new dimensions to their sound. The band can make you want to dance with strobe lights one second, and make you contemplate your state of mind the next.

17. Japandroids – Celebration Rock
Celebration Rock sounds exactly as it should. Passionate jams meant for shared experiences of joy and good times. It captures the moments where nothing else matters but which friends end up showing up, if the beer is cold, and if she feels the same way. One of the best true party albums of the year.


16. Django Django – Django Django
Django Django create their own world on their excellent self-titled debut. Damn shame that Django Unchained came out this year, otherwise this album would have been the only Django named thing that people would have focused on.


15. Sharon Van Etten – Tramp
Sharon Van Etten may be my favorite singer-songwriter. She just has it going on. She has a stone cold stunner of a voice, and leaves me hanging on her every word. Don't sleep on this girl, she's the future.


14. Wild Nothing – Nocturne
Jack Tatum took the formula from Gemini, and just got better, sharper, and more heartfelt. This record really shaped up how I felt about things over the last few months. I definitely owe him a beer or two, because he crafted one of the most enchanting releases of the year.


13. Cloud Nothings – Attack On Memory
Cloud Nothings should get an award for best follow-up album. Dylan Baldi's previous releases were fine and all, but he really found his niche on Attack On Memory. He perfectly captures the angst and dishevelment that so many twenty-somethings such as myself are going through. He hits it out of the park, with stunning guitar jams that are both pop-perfect and grungy levelers.


12. Grizzly Bear – Shields
Any band could have stumbled trying to follow-up an album like Veckatimest, but Grizzly Bear are not mot bands. They take steady footing on Shields, erupting on songs like "Sleeping Ute" and "Yet Again' and releasing what may be the album closer of the year, with "Sun In Your Eyes." Grizzly Bear have assured me that they will never let me down.


11. Frank Ocean – channel ORANGE
With an album that received as much praise as this it's easy to become a non-believer. No reason, channel ORANGE is an incredible album that deserves all the praise its getting. Frank Ocean's voice is a refreshing thing in this music industry, and I have no problem seeing him take over.

10. Port St. Willow – Holiday
This is the most overlooked/underrated album of 2012. If you're not familiar with Port St. Willow's incredible debut album Holiday, you're only hurting yourself. Nick Principe creates one hell of an emotional journey on this album. It has an atmosphere that really sounds out of this world, and like nothing else out there right now. It's a beautiful record, and one that I urge you to fall in love with.


9. The xx – Coexist
Oh jeez, Coexist wasn't as immediate as their incredible debut album. What do we do, give up on it? Nope, how about we give it time to digest and grow on us. This sure did work for me, and I found new reasons to fall in love with these Londoners all over again. Oliver Sim's improved singing is the true winner on this album, as he has evened the odds with the always endearing voice of Romy Madley Croft.


8. Jessie Ware – Devotion
If America honored pop stars like Jessie Ware, the radio would be a much more tolerable place. Her debut album Devotion is one of the most enjoyable female released pop albums in a long time. I can listen to any of her smooth should be hits from top to bottom and feel energized and full of good energy. That is the ideal feeling of pop music right? This girl can bring it, and if there is any right in this industry, she should be floating to the top very soon.
7. Alt-J – An Awesome Wave
For me, Alt-J have had the most surprising success out of any band this year. I thought people would have a tough time swallowing the unique sound of the band, but I was wrong as they won the Mercury Prize, have grown a moderately successful U.S. audience selling out dates all over the country, and scored a spot on the Silver Linings Playbook soundtrack. I guess it shows that people are still able to be challenged and enjoy something different.


6. TOPS – Tender Opposites
Where is the love for TOPS Tender Opposites? These Montreal kids have crafted one of the years best albums, yet not enough people have taken notice. I'm fine with keeping these guys my little secret, but an album with so many timeless indie-pop jams as this shouldn't be ignored. It's damn criminal. At their core there is a 70s/80s sound, but in their heart, they will genuinely sound like they are in their own zone.


5. Dirty Projectors – Swing Lo Magellan
Dirty Projectors created what may be their most normal record yet with Swing Lo Magellan. It worked quite well, as it was one of my most listened to records of the year since it was released. From top to bottom Dave Longstreth, his lovely ladies, and the rest of the band create a consistent record with lovely vocals and ideas that make them distinctly who they are. Any album with killer tracks like "About To Die", "Impregnable Question", and "Gun Has No Trigger" is a must own.

4. The Walkmen – Heaven
The Walkmen have released another great album with Heaven, as if that should surprise anyone at this point. They have comfortably slid into the position of being one of the best and most consistent bands working in America. Heaven is a complete and wholesome package at every foreseeable angle and second, with heartfelt passionate tunes bursting onto the table and into your musical plate. They have done it again, and I am proud to call them one of my favorite bands.

3. Chromatics – Kill For Love
These days, people are so focused on the single, leading most to believe that the albums format is dead. Then Johnny Jewel and his band release Kill For Love, a grand statement defending the album, and that it still has a lot to offer. From front-end to back-end, this is a mighty album of songs that capture so much at once. It has an atmosphere that just aches to be played during long drives that are lost in the night.

2. Beach House – Bloom
I was sitting in my bed up at Binghamton during my final semester there, when I saw that Beach House had released a new song called "Myth." I stopped myself from doing anything else but letting the song play out of my headphones, and digesting it. I was so overcome and moved by the song I couldn't do more than lay there lost in it all.
I still get that feeling every time I play "Myth", which is quite often. People's only argument against Beach House is that they haven't changed their sound much over the years. This may be true, but when a band is able to continue to create magical songs that move me more than most people have this year, I am all game.


1. Tame Impala – Lonerism
Tame Impala shocked me with Lonerism, an album with a world of psych-rock perfection embedded within. I was excited for Kevin Parker's follow-up to Innerspeaker, but I didn't quite expect a near masterpiece like Lonerism. To think that Parker recorded all vocals/instrumentals himself is absurd. The notion of one man coming up with all the pieces to this delightfully psyched out classic is hard to believe.
Anytime someone is comparing you to the Beatles, you know your in good company. Parker's vocals eerily similar to Mr. Lennon, and his melodies don't stray too far either. This is the type of record that you can put on at any moment and find a new favorite moment or discover a sound that you didn't even realize yet. There is no way to fully digest an album like this, you can only hit repeat and let it find a new way to change your world.