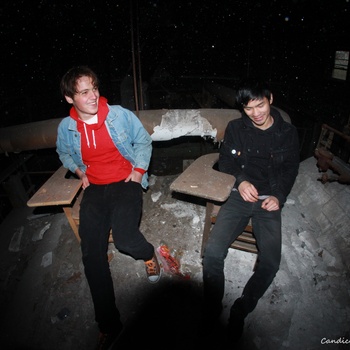 Look Hands, No Dad is a band from my hometown of Rockland County, featuring Shane Kelly, a friend of mine from high school. He joined up with his pal Paul and created a 4 track EP titled Play With Ghosts.
Look Hands, No Dad deliver folk songs with raw emotion, and a punk edge with plenty to say. Their debut EP is "a collection of songs about death, friendship, love, longing, and hope." I never directly post press releases, but in this case, I don't think I can say it better than they do:
Punk is dead and the folk are raising up from their graves. There's a storm brewing, a perfect tornado formed where New York City punk meets Appalachian Folk, they're calling it Look Hands, No Dad. Like the magma that formed the hills of their home town, Paul Masbad and Shane Kelly have erupted from a stale beer soaked basement ready to unleash their all new blend upon the earth. Drawing a line between their punk and folk influences, Look Hands, No Dad releases their first ep, Play with Ghosts, the boys have crafted a mobius strip of sounds and styles that paints a picture and trashes it at the same time, bringing a message about the despair of loss and the hope of the future. LHND stand on the shoulders of giants, in the shadows of mountains.

Look Hands, No Dad is
Below you can stream their entire EP via bandcamp, where you can download it for free.